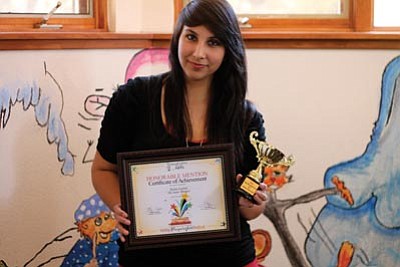 Originally Published: March 12, 2013 10:43 a.m.
PRESCOTT, Ariz. - On March 3, theatre-goers attending the third Annual Young Playwrights Festival (YPF) chose Grand Canyon School (GCA) student Hailey Gaebel and her play "The Inner Monster" for Audience Choice Award.
Prescott Center for the Arts (PCA) put on the festival.
Gaebel's intense drama about mental illness garnered the most ballots after votes were tallied from both the 2 p.m. and 6 p.m. performances of the eight plays selected for the festival.
YPF Coordinators Tiffany Antone and Jon Meyer announced Gaebel as the Audience Choice Award winner during the awards ceremony at theconclusion of the festival and awarded her with a cash prize and trophy.
"The Inner Monster" was among the top scorers during the initial round of the judged and juried competition. YPF Committee members then selected the play as one of the eight winners to progress to the performance phase.
Gaebel then had the opportunity to work with one of the PCA's veteran directors, Cason Murphy, who lobbied to be the director of her play.
One of the goals of the YPF is to provide the winning playwrights the opportunity to experience the process as the director and actors began those initial steps of taking a script from page to stage.
Murphy, co-founder of Theatrics Theatre and a graduate of UCLA's School of Theatre and Film, had Gaebel attend the first rehearsal to meet the cast playing the characters she created.
Murphy said he predicts great things from the young writer.
"A playwright's story doesn't become a play until those words on those pieces of paper are bought to life on a stage before a live audience," Murphy said. "Hailey's story, characters and dialogue gripped me the moment I started reading her play, and I had no doubt that it would be the talk of the festival. I knew I had to be a part of 'The Inner Monster' and told the committee it was the one I wanted to direct. Hailey is a true wordsmith and creative talent."
More like this story