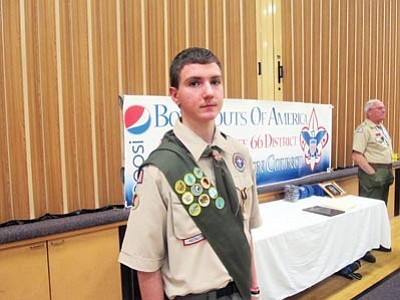 Originally Published: March 12, 2013 11:03 a.m.
GRAND CANYON, Ariz. - Without Grand Canyon School (GCS) student Noah Yarnell's quick thinking, a weekend Grand Canyon Youth (GCY) trip to the Colorado River last May might have turned into disaster.
It was the third day of the group's Diamond Down River trip on the Colorado River. Students, teachers and chaperones had been motoring all morning and were ready for some lunch.
Teacher and GCY Sponsor Lori Rommel said in the early afternoon, they pulled up to a side canyon to take a short, silent, reflective hike back to a waterfall.
"As we each arrived and took in its beauty, students wandered around to check out the falling spring water," she recalled.
Although there were several experienced guides and teachers around, what happened next could have been a catastrophe.
Off to the side, several Grand Canyon students noticed some berries.
One student remarked the berries looked like canyon grape and, to be funny, two students dared the other student to eat it.
Because of his Boy Scout experience, Yarnell cautioned the student it would be a better idea to ask an adult first before eating.
"They were two feet from me," Rommel said. "And Noah said, 'hm, maybe that's not such a good idea.'"
The plant turned out to be nightshade, a relative of the canyon grape.
Rommel said if Noah didn't have the courage to speak up, the student could have suffered tremendous illness and medical help could have been hours away because of the group's remote location.
"There really is no good way of getting help down there," Rommel said. "The kid would have been incredibly sick and would have had to just tough it out, which would have been miserable for everyone."
Last month, the Boy Scouts of America recognized Yarnell for his courage with the Medal of Merit for "outstanding act of service of a rare or exceptional character that reflects an uncommon degree of concern for the well-being of others."
Rommel said that on a trip down into the Canyon, one can never be too overprepared for what may happen.
"You always need to be thinking in your mind about survival," she said. "And that's a hard thing to teach because, they're kids and it's rare to be in the situation and Noah, not only did he think of that, he had the courage to say, 'no, let's go ask an adult.'"