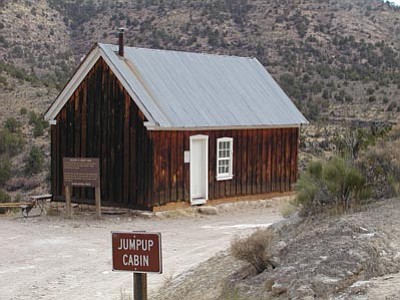 Originally Published: March 19, 2013 10:05 a.m.
FREDONIA, Ariz. - The Kaibab National Forest is seeking public comment on a plan to add three historic sites to the Arizona "Rooms with a View" cabin rental program on the North Kaibab Ranger District.
The Arizona "Rooms with a View" program has become popular because it offers the unique recreational experience of staying in historic Forest Service cabins while providing money for the buildings' ongoing maintenance and renovation.
The Kaibab National Forest proposes new recreation fees at Jumpup Cabin, Pleasant Valley Cabin and individual cabins at the Big Springs Administrative Site, adding these three historic sites to the cabin rental program. The fee revenue would be used to operate, maintain and improve these recreation facilities and give visitors with a unique recreational experience.
Jumpup Cabin, the oldest existing ranger station on the Kaibab Plateau, was built in 1906 and sits at the edge of Kanab Creek Wilderness. This cabin would be available for rent starting in fall. The new fee is proposed at $60 per night.
There are seven historic residential cabins at Big Springs, located next to the Kaibab Plateau's most abundant water source, about 35 miles south of Fredonia. These cabins would be available for rent in spring of 2014. The new fee is proposed at $65 per night for an individual cabin.
While Big Springs serves as an active administrative site for the U.S. Forest Service, rental cabins available to the public are in a discrete location separated from administrative structures.
The cabin at Pleasant Valley is located along Highway 67 north of Grand Canyon National Park. Pleasant Valley Cabin requires substantial rehabilitation work to prepare it for public use and would be available for rent in spring 2015, contingent on future funding. The new fee is proposed at $140 per night.
Each of the cabins would require a reservation for use. Interested parties would make reservations through the National Recreation Reservation Service (NRRS) at www.recreation.gov or by calling 1-(877) 444-6777. The NRRS charges a reservation fee for Internet and phone reservations.
The Forest Service posted the new fee proposal in the Federal Register on March 8. The Bureau of Land Management (BLM) Arizona Resource Advisory Council (RAC) is presented all new fee proposals. Committee members represent a broad array of recreation interest groups to help ensure that the Forest Service is proposing reasonable and publicly acceptable fee changes. The RAC will help ensure that the Forest Service addresses public issues and concerns about recreation fees.
The public is welcome to attend and comment at all advisory council meetings. The RAC plan to sponsor a meeting in summer. The Forest Service and local media will announce the meeting date, location and agenda on www.blm.gov/az/st/en/res/rac/recreation_rac.html.
More information is available by contacting Recreation Manager Missy Spandl at (928) 643- 8120 or mmspandl@fs.fed.us. The public is encouraged to submit any comments by May 1 so comments can be compiled, analyzed and shared with the RAC during the summer.