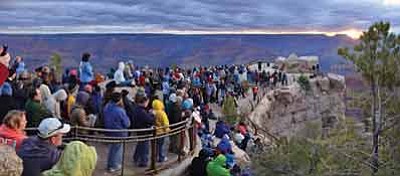 Originally Published: March 26, 2013 11:56 a.m.
The 78th Grand Canyon Easter Sunrise Service on the Rim is approaching this weekend, and visitors from around the world will join with local residents to celebrate the resurrection of Jesus Christ at one of the seven natural wonders of the world. Hundreds will gather along the rails and rocks of Mather Point Overlook at 6 a.m. to participate in worship while witnessing the beauty of a Grand Canyon sunrise.
While the Sunrise Service inspires those in attendance with beauty and hope, perhaps the greatest aspect of the Sunrise Service is the invitation to participate in the events of the first Easter Sunday morning 2,000 years ago. Mark in his gospel paints a picture of what the first witnesses of the resurrection experienced: Sunday, early in the morning, just after sunrise, a large stone that had rolled away. Today, that same sensory experience is captured when one stands at the rim on an early Easter Sunday morning, watching as the sun rises in the east and casts its rays on the glorious stone walls of the Grand Canyon, and illuminating the breathtaking chasm where stone has given way to the powerful forces of creation.
Just as the women who arrived at the empty tomb received a world-changing message, those gathered at the Easter Sunrise service celebrate the angel's proclamation that "He has risen!" through singing, prayer, scripture reading and an Easter message. And the call to "go" and tell others signifies the joy that Easter Sunrise participants feel as they mingle and fellowship among those gathered at the service and then carry that joy with them as they enjoy breakfast, hiking, or other activities at Grand Canyon National Park.
The Grand Canyon Easter Sunrise Service on the Rim has always been interdenominational, and all are welcome to experience the drama of that first Easter Sunday morning with believers from all over the world. This year, the Community Church welcomes Rev. Spencer Lundgaard, executive director of the interdenominational ministry organization, "A Christian Ministry in the National Parks (ACMNP)" to our Easter Sunrise Service to provide those gathered with a message of resurrection hope.
"It's difficult to imagine a place so majestic as the Grand Canyon to join with the company of people from around the globe as we wait for the first light of Easter morning to proclaim, "He is risen! He is risen indeed!" Lundgaard said.
Mather Point Overlook is located behind the Visitor's Center and is wheelchair accessible.
Parking is available at Visitor's Center Parking Lot #2. Signs are posted in the lodges for shuttle information. Organizers encourage participants to dress for very cold and windy conditions
More information on ACMNP is available by visiting www.acmnp.com.
More like this story