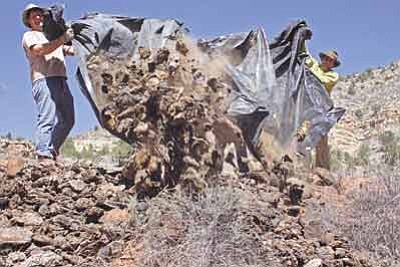 Originally Published: March 26, 2013 10:36 a.m.
FREDONIA, Ariz. - March is Archaeology and Heritage Awareness Month in Arizona.
In recognition of the amazing resources on the North Kaibab Ranger District, a group of Kaibab National Forest employees spent March 18 and 19 sifting through sagebrush, scorpions and dirt to remove cow manure from cultural resource sites within Kanab Creek Wilderness.
"People come from all over the world to view these special places, and many local residents take great pride and ownership in these sites," North Zone Archaeologist Connie Reid said. "We have an obligation to care for them, not just legally, but in order that future generations have a chance to experience them, too. The Forest Service takes its stewardship responsibilities very seriously."
Agency officials discovered that cows from an allotment adjacent to the National Forest knocked down fences and spent weeks within Snake Gulch canyon during the winter months.
The cows have littered the area with manure, trampled structures and wallowed beneath the overhangs, which has contributed to undesirable erosion within the drainage.
Over the course of two days, employees removed more than two tons of manure surrounding a handful of the most visited sites.
Kaibab rangers plan to schedule more employee and volunteer workdays throughout the year to mitigate the damage done by the animals.
Snake Gulch contains what is believed to be the highest concentration of pictograph sites within National Forest System lands, Reid said.
The sites hold a great deal of cultural significance for Native American tribes in the area.
Many of the sites are also listed on the National Register of Historic Places, which mandates their protection under the National Historic Preservation Act, as well as the Archaeological Resources Protection Act.
Violations can result in criminal or civil penalties under federal law.
The Kaibab National Forest asks for the public's help to protect and maintain these rare and special places.
The Forest will advertise future clean-up days once they are scheduled for any members of the public who wish to volunteer.
More information is available by contacting Public Affairs Specialist Patrick Lair at (928) 643-8172.