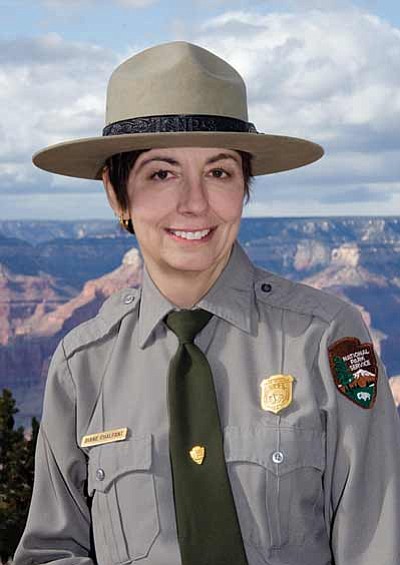 Originally Published: May 7, 2013 10:53 a.m.
GRAND CANYON, Ariz.- Diane Chalfant, a 32-year National Park Service (NPS) career professional, moved to the Grand Canyon in March to take the job of Grand Canyon National Park's Deputy Superintendent.
Chalfant is working closely with the Park Superintendent, Dave Uberuaga, who will continue his work building outside partnerships with the park. Much of Chalfant's focus will be on internal park operations. In other words, everything that helps the park to achieve its mission.
"Specifically, that's everything from overseeing the visitor and resource protection program and resource management program and the interpretation program, maintenance, concession planning, all of those things," Chalfant said. "I have a particular interest in working with the tribe."
Before coming to the canyon, Chalfant was NPS Deputy Associate Director for Interpretation and Education at NPS's Washington Headquarters. There, she worked on policy development, education partnership development and program evaluation.
She also did a lot of work with the Indian Bureau of Education.
"I look forward to getting to know the tribes in this area and perhaps work on some issues related to diversifying our work force here and making the park more relevant and accessible to not only international visitors, but also to the local residents," she said.
While settling in, Chalfant said she had a massive amount of reading to do to acquaint herself with the park. During the weekend, she and her husband Paul would take walks, exploring the area and talking to visitors.
For the last five years, Chalfant wasn't in uniform, although she had been in the 27 years prior. She said putting the uniform on again and being out among visitors has been a great reminder of what national parks mean to people.
A native of suburban Cleveland, Ohio, Chalfant has worked in six national parks, including Yellowstone and Cuyahoga Valley National Parks, Apostle Islands National Lakeshore, Independence National Historical Park, Mount Rushmore National Memorial and Perry's Victory and International Peace Memorial.
"I think that the park Grand Canyon reminds me the most of is Yellowstone," Chalfant said. "They are both large, iconic parks, but they also are complex places that get a lot of visitors. In that way, Grand Canyon in a working environment is very familiar to me."
Chalfant recently completed a temporary assignment as the Commissioner for National Parks of New York Harbor, providing oversight for the Statue of Liberty and Ellis Island, Governors Island, the seven park units that comprise the Manhattan Sites and Gateway National Recreation Area. While there, she served as the Agency Administrator for three Hurricane Sandy Incident Management Teams which brought more than 1,000 NPS employees to the New York area to help in the months following the hurricane.
The Chalfants' daughter, Danielle and son-in-law, Greg, work at Yellowstone National Park. The Chalfants' son, Marc, is in graduate school at Colorado State University.