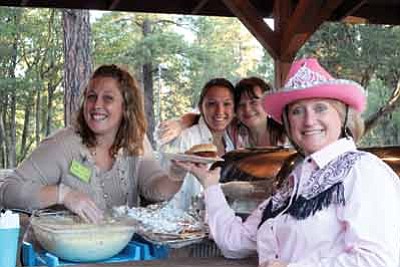 Originally Published: October 1, 2013 1:33 p.m.
Dear Community,
Many of you made it to Kaibab Learning Center's recent fundraising event, the Not-in-a-Barn Barn Dance. We were treated to live music by Exit 64, ate great food courtesy of many local businesses and gave away some fantastic prizes at our raffle. Moreover, we raised enough money to renew our childcare license for the next three years. We want to extend our deepest appreciation and gratitude to all the volunteers and donors that made this event a success.
A hearty thank you is due to ClayAnn Cooke from Big E's for providing the delicious barbecue pork and potato salad. We also owe a debt of gratitude to Xanterra for the coleslaw, Plaza Bonita for pinto beans, Mc Donald's for buns, Best Western for water and kid's drinks and Grand Canyon Brewery for the beer. We also want to thank Canyon Plaza for their donation that purchased one of our favorite raffle prizes, a brand-new iPad. And of course we want to thank Exit 64 for putting on a great show!
There are a few donors who deserve special recognition. Murrel and Nancy Booth at Apache Stables donated not only the beautiful Moqui Cook-Out Site, but also their time and their hard work preparing for the event. We also want to thank Papillon for their generous donation. It is heartening to receive such meaningful support from our local businesses.
Why is their support so important? Children who receive an excellent early-childhood education are more likely to graduate from high school and attend college, less likely to go to prison and better equipped with social and academic skills to be successful future employees. Each year, Kaibab Learning Center must raise over $40,000 in order to provide our services at an affordable price. The support of these local businesses means that we can continue to serve families in Grand Canyon, Tusayan, and Valle for the next three years.
We thank these donors from the bottom of our hearts, and look forward to another great event next year!
With most sincere gratitude,
Lori Rommel
Board of Directors, Kaibab Learning Center
More like this story