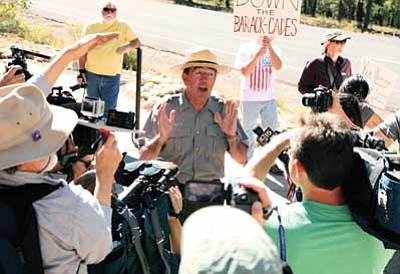 Originally Published: October 8, 2013 4:46 p.m.
GRAND CANYON, Ariz. - Around 50 disgruntled Tusayan business owners and residents marched to Grand Canyon National Park's gate today, waving picket signs reading, "America is better than this," "tear down the Barack-cades" and "Does Obama care?"
The gateway town of Tusayan, located just outside the park, is feeling the effects of government shutdown and the people who live there want legislators to know its sentiment. The town generated more than $290,000 in sales tax in October of last year and depends solely on tourism dollars to keep afloat.
Eric Gueissaz, who has lived in Tusayan for more than 40 years said in 1995, the government shutdown didn't affect local residents at all, but now it's different.
"Things were civil," Gueissaz said. "There was no such closure, I think this is barbaric. That's my way of saying it."
Another longtime resident, Becky Shearer, said she wanted to protest simply because there are so many people out of work.
"It's just crazy, and the disappointment with the tourists is just incredible," said Shearer, who owns Seven Mile Lodge in Tusayan. "I've even had a woman cry when I told her she couldn't see the Canyon. This is our busiest time of year and we really need to be working. We don't get paid by the government."
Grand Canyon National Park Superintendent Dave Uberuaga met the protesters at the main entrance to the park and told the Grand Canyon News he wasn't really sure what to tell the crowd.
"I think the public needs the opportunity to let people know how they're feeling and I want to accommodate this best I can," Uberuaga said. "I'm doing everything in my control to facilitate what decisions need to be made, but at this time, the answer is, 'we can't open until we get appropriations.'"
As Uberuaga spoke to the gathering of media and protesters, several demonstrators interrupted the superintendent, with demands that he open the gate to the national park.
"I cannot open the gate," Uberuaga replied to the crowd. "Only Congress can open the gate."
During the 1995 federal shutdown, then Governor Fife Symington gathered state resources and private donations to keep the park partially open for 21 days.
Residents in the company town have raised almost $400,000 to try and do the same this time around. The hope is to raise enough to reopen a Grand Canyon viewpoint, possibly Mather Point, and Highway 64 between Tusayan and Cameron. At last week's Tusayan Town Council special meeting, Mayor Greg Bryan said doing that would cost an estimated $19,000 a day.
But, even with those financial promises, park officials say they aren't accepting third-party donations.
Inside Grand Canyon National Park, 438 government employees are on furlough because of the shutdown and approximately 1,400 concessions employees could be affected. The only NPS employees that remain on duty are providing security and emergency services.
The park takes in around 18,000 visitors each day in October, and will lose an estimated $55,000 in revenue each day because of the shutdown.