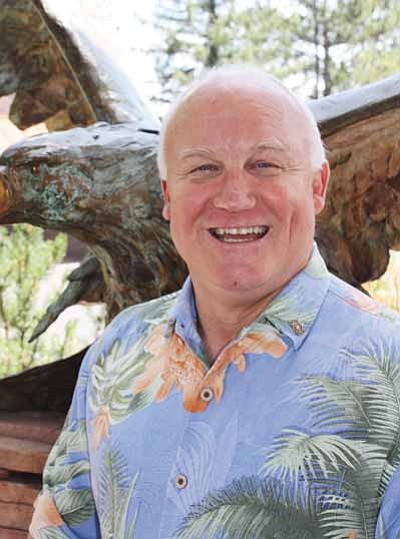 Originally Published: April 1, 2014 10:04 a.m.
Greetings Tusayan and Grand Canyon area residents,
Spring break is in gear and the business community is running strong in spite of the winds. The moisture is encouraging but we certainly need much more in the near future. The Forest Service continues to take advantage of the weather and do needed burns to help keep our forests healthy and reduce extreme fire potential that could threaten our communities. Thank you!
Recent conversations at the council level have certainly created some statewide interest in thoughts about a possible name change for our town. The discussions started years ago at the Chamber/Visitor Bureau in looking at ways we could better market our community in the international and domestic markets. It has always been about improving our market share and being able to spend marketing funds wisely and efficiently. It has not been in any way meant to be disrespectful of our town's name or history, but rather about helping our businesses to be more successful. The town council discussed it at our retreat and felt it was important to get the opportunity out for discussion in our community and see what our residents feel about the issue. We will work with the Grand Canyon/Tusayan Chamber & Visitor Bureau to set up a town meeting for our residents to discuss and share their feelings. If the impression were one of support then the town council would then set up a vote for town voters during the primary election in August as to whether or not they want to change our name. The name that has seemed to come to the forefront has been the Town of Grand Canyon. Other names could and would be considered during the process. It has been interesting to receive emails from across the country about the name change and their suggestions. We look forward to meeting with interested people and also hearing from some experts in marketing about what a name change could do in terms of pros and cons for our town in terms of marketing itself. Stay tuned and become involved by sharing your thoughts. The decision was never intended to be arbitrary, but rather based upon sound marketing principles.
The town council will take up the final version of the Tusayan General Plan at its next meeting April 9. You can read the final version on the town's website www.tusayan-az.gov. We will be hold a public hearing that night to welcome any additional comments and possible changes to be considered. The meeting will also be the start of our Home Rule election process and sharing a five-year budget forecast. So come out and be informed and help us make decisions that reflect our community's views.
In other community news the shuttle bus stops should start to be installed within the next few weeks and will hopefully be finished before the shuttle starts in May. We want to once again thank the National Park Service for arranging for the funding for this project and to Arizona Department of Transportation for making it happen finally. There will be four shelters along Highway 64 and the town will maintain them once they are built.
The town will be working with the Tusayan Fire District to set up a meeting to review emergency and evacuation plans with all the businesses in town. It will be very important that all businesses attend so we can create an efficient communication system during power outages and emergency situations. Please attend and help us keep our residents informed and safe.
I am in Washington D.C. this week working to get our delegation and others to move forward on some important legislation, one of which is the American Access to Public Lands Guarantee Act by Senator Flake and Representative Gosar and others. These bills will assist us in keeping our national parks, monuments and national recreation areas open during future federal shutdowns. It would be great to not have to worry about that happening again.
See you at our next council meeting April 6 at 6 p.m.
Respectfully,
Greg Bryan
Mayor, Town of Tusayan
gbtusayan@gmail.com
(928)638-8401