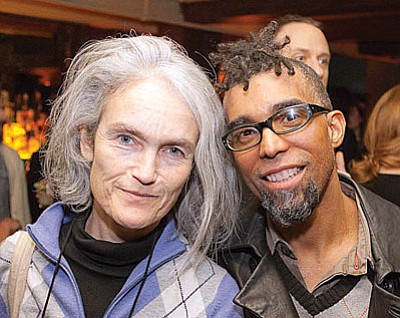 Originally Published: April 15, 2014 11:23 a.m.
GRAND CANYON, Ariz. - Dread Scott and Jenny Polak, whose work examines contemporary social justice issues through installation, video, photography, sculpture, conceptual and performance, are South Rim artists-in-residence until May 3.
The couple shares a studio in Brooklyn, N.Y., but they generally work solo or with other artists and groups, so this residency offers them the rare opportunity to work on a collaborative project.
Polak's work is grounded in her formal background in architecture, and includes architectural installations, drawings, web-based work and interactive objects. She's invented a fictional architecture firm, "Design for the Alien Within," which centers on the idea of creating hypothetical safe hiding places for at-risk people, specifically undocumented immigrants.
This work reflects on her family history of immigration and the upheaval, risk and unknown that comes with relocating into a new culture.
With materials ranging from cardboard to paint to solar-powered runway approach lights, Polak's work celebrates people's desire to help each other survive hostile environments and circumvent the systems that further subjugate the least powerful in our population. Working with the dichotomy of visibility and secrecy, Polak's projects include interactive hiding places and temporary dwellings, as well as protective clothing created from discarded materials created by our financial institutions.
Polak is originally from England. She received a B.A. in architecture from Cambridge University and a Fine Art and Critical Studies B.A. from St. Martins School of Art in London before moving to New York to pursue her MFA in Visual Arts Studies from The School of Visual Arts. She is an award-winning and frequently exhibited and sited international artist.
Her partner, Scott, first received national attention in 1989 when his art became the center of controversy over its use of the American flag. The discussions that came out of that exhibit ultimately resulted in a Supreme Court case and a landmark First Amendment decision. His work focuses on the profound social polarization that has contributed to the exploitation and suffering experienced by billions of every-day humans, perpetrated by unjust social, political and global forces. Seeking to help humanity forge a radically different world without exploitation or oppression, Scott's work encourages the viewer to envision how the world could be by exposing people to how it is for the disenfranchised. He has created performance pieces that reflect on the fact that America is a country whose democracy is rooted in slavery, as well as work that examines the huge global systems that have created contemporary economic injustice.
Scott's work is widely exhibited, and he frequently presents at galleries, public spaces, radio and television shows and formal panels talking about the issues that are at the heart of his work. He received his BFA from the School of the Art Institute of Chicago, with additional studies at the Whitney Museum of American Art.
While in-residence, the artists will pursue their collaborative video and photography projects and spend time hiking and exploring, including research in the National Park archives and collections.
Their work focuses on social questions facing humanity and science, including an interest in debates about the age of the Earth, and global climate change.
"The history of controversy around the age of the Grand Canyon fascinates us," the artists wrote in their residency statement. "The vastness of the Grand Canyon offers both a literal and metaphoric expression of the age of the Earth; it is this narrative we will explore while in-residence. Developing time-based work in video and time-lapse still photos that embody the act of measuring layers, we will play with cinematographic conventions and begin to develop a new body of work."
The couple will present their work to local high school students and offer an Evening Program artist talk toward the end of their residency, in which they'll present in-progress new work, as well as older finished work. The Evening Program is scheduled for April 27 at Shrine of the Ages, 7:30 p.m.
More about the artists can be found at www.jennypolak.com and www.dreadscott.net.
More like this story