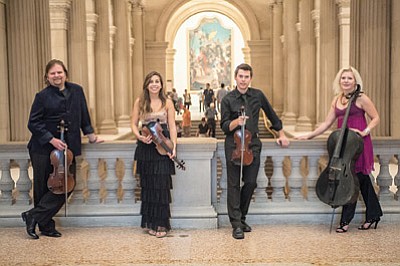 Originally Published: August 20, 2014 10:25 a.m.
GRAND CANYON, Ariz. - Over the next few weeks, some of the country's most talented musicians will descend on the South Rim for the 31st annual Grand Canyon Music Festival.
Kicking off the festival on Friday and Saturday is trio BRIM - comprised of Eve Beglarian on vocals, Clare Hoffman playing the flute and Mary Rowell on violin. The performance starts at 7:30 p.m. at Shrine of the Ages.
Also performing on the same evening is trombone quartet, Guidonian Hand. The four brass musicians will play works by Claude Debussy, Mary Ellen Childs, Eve Beglarian's "Book of Days" and "River Project," and the Hilliard Ensemble's arrangement of J.S. Bach's incomparable Chaconne, "Morimur."
Inspired by the desire to understand our country at this particular point in time, Beglarian, who is also a prominent composer, took off on a kayak trip down - and up - the Mississippi River in 2009. Called the River Project, her journey evolved into a multiyear exploration and documentation in sound of where we live.
"Idealistically, part of my goal was to get out and see the real America and see if this red state/blue state hideousness can in any way be shaken. It's a top-down construct because when we meet in person, we all embrace family values and none of us wants to defoliate our landscapes," Beglarian said.
Beglarian also talked with Native Americans about what the Colorado River meant to them and took a short trip on the river itself to get a taste of what it was like. The result of her trip will be performed musically for Grand Canyon audiences.
"We are so pleased to be able to bring Eve and The River Project to the Grand Canyon Music Festival, to share her journey of exploration by water," Hoffman said. "There is no better place than the Grand Canyon, an iconic symbol of our shared 'home,' to discover 'where we live.'"
On Aug. 28 at 4 p.m. at the Shrine of the Ages, the festival invites the public to rock along with Grand Canyon high school students as they display what they learned during the weeklong School of Rock with Harmonica virtuoso Robert Bonfiglio, jazz violinist Joe Deninzon and guitarist Stephen Benson.
The festival incorporated the School of Rock into its educational programming in 2007. Grand Canyon School of Rock is a weeklong education program that gives Grand Canyon School (GCS) students the chance to experience all aspects of band life. From intensive rehearsal and music theory sessions focusing on rock and pop music theory, techniques, and styles, to the culminating public performances, School of Rock students share in all aspects of band life, from musicianship, to hauling gear, set-up, promotion, sound and light board and support of band mates. The students compose their own music, and arrange and interpret standards from popular music genres. The program exposes them to new music, introduces them to music production, and develops their own performance skills as they learn the discipline of ensemble performance and participation. Students designed the logo and backdrop, created a web page, and intern on production. The program culminates in two public performances of classic rock and roll music.
Later that evening at 7:30 p.m. The Bonfiglio Group will perform a unique fusion between jazz, classical, rock, and pop.
On Aug. 29 and Aug 30 at 7:30 p.m. at Shrine of the Ages, ETHEL, America's premier post-classical string quartet, will take the stage for their tenth and final season as GCMF ensemble-in-residence, The quartet, along with guest musician James Bilagody, will perform works by John King, Dan Friel, Philip Glass, Marcelo Zarvos and a new work by Raven Chacon.
The Catalyst String Quartet will close the 31st season on Sept 5 and 6 at 7:30 p.m. at the Shrine. The much-loved group will perform works by Glenn Gould, Antonín Dvořák, Bedrich Smetana, Jessie Montgomery, and its own arrangement of J.S. Bach's monumental Goldberg Variations.
Admission to Grand Canyon Music Festival season concerts is $15 for adults and $8 for children (age 6 and older) and students, season tickets to all seven concerts are $90. More information is available by calling (928) 638-9215. A complete schedule and information and tickets are available by visiting www.grandcanyonmusicfest.org or by calling (928) 638-9215.
Native American Composer Apprentice Project
Can't make it to the Grand Canyon? Don't worry - the Grand Canyon Music Festival is bringing its Native American Composer Apprentice Project (NACAP) to Scottsdale Community College, the Navajo Nation Museum, and the Heard Museum.
Since 1985, the festival has given the gift of music to the students of northern Arizona's rural communities, primarily at schools on the Navajo and Hopi Reservations. In 2001, the Festival initiated its Native American Composers Apprentice Project (NACAP) to train Native American students in the art of composition. The project grows musical literacy and boosts critical thinking and decision making skills through music composition. It also introduces students to European "classical" music techniques, develops their understanding of their own musical heritages and how to use that knowledge to expand their own compositional voices.
For the second year in a row, GCMF brings its apprentice project to high school students at Salt River High School on Aug. 25 at 5 p.m. at the Salt River Maricopa-Pima Indian Community in Scottsdale. ETHEL will perform new music by Salt River High School's talented apprentice composers. The concert is free.
On Aug. 28 at 7 p.m., ETHEL will perform works by NACAP students and a new work by NACAP composer-in-residence Raven Chacon at the Navajo Nation Museum in Window Rock.
Finally, on Sept. 2 at 5:30 p.m. at the Heard Museum in Phoenix, the Native America Composer Apprentice Project (NACAP) will perform its last concert. General admission tickets are $10. Tickets will also be available at the door.