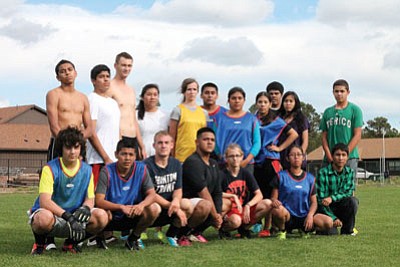 Originally Published: August 20, 2014 10:49 a.m.
GRAND CANYON, Ariz. - School has started, which means volleyball and soccer are in full swing at Grand Canyon School (GCS).
Barb Shields, who has coached volleyball for seven years at the school and moved into the role of head coach the season, expects a lot from her team.
"Specifically to bring their game day attitude to each practice," Shields said. "We're really working on a lot of team building, and a lot of unity, I think we've struggled with that in the past."
The seasoned team has six seniors and juniors, a sophomore and about three freshmen. They'll start their season Sept. 2 against Northland Preparatory Academy (NPA), a team Shields thinks will be a good test.
Shields said all of her seniors, and a lot of her juniors, are strong players. Not only that, she's already sees promise in her younger players as well.
Even though the team just started regular practice, she's already excited about what she sees.
"The girls are really into it. They've been very focused, and very positive," she said.
Varsity soccer
Like last year, Janet Ginder-Berchick and Kaitlyn Russell are coaching GCS varsity soccer.
The team is starting its season Sept. 2 against Chino Valley.
Last year, the team had three wins, two ties and 12 losses. Ginder-Berchick said her players are focusing on improving camaraderie, which in turn will hopefully lead to more wins.
The schedule is similar to last year, and this season Ginder-Berchick wants to see her young team come out on top against Camp Verde in a season she calls "transitional."
The six returning players, along with a new player, Bryon Amidon, are already proving themselves to be assets to the team.
And despite not knowing how they will do at a varsity level yet, Ginder-Berchick said her freshmen players were an undefeated middle school team.
"I'm looking forward to increasing our wins, working together and having fun, Ginder-Berchick said. "These kids love to have fun."
More like this story