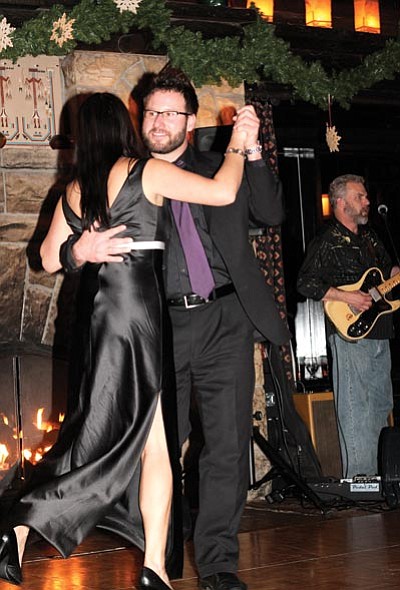 Originally Published: December 9, 2014 10:42 a.m.
GRAND CANYON, Ariz. - Gentlemen donned their best denim jeans and ladies displayed dazzling diamonds at the 2014 annual Rotary on the Rim dinner and dance.
A strong turnout for the event showed the communitys support and dedication to Rotary and what the club does for the Grand Canyon and neighboring communities. For the past six years, Rotarians have hosted the event, which is held at the El Tovar hotel on the rim of the Grand Canyon. The evening started off with door prizes, last chance purchases of raffle tickets and bidding on silent auction items. Rotary uses proceeds raised from the event for opportunities throughout the year to help the community. The dinner/dance is Rotary's largest fundraiser.
One of many surprises throughout the evening occurred when Grand Canyon Rotary was named 2013-2014 number three club in their district. Recognition for the honor was received for the third most per capita annual fund giving for the Rotary foundation of Rotary international. They also had 100% member participation.
The rest of the evening was filled with food served on silver platters, the John Rueter Band playing renditions of Patsy Cline and a dance floor filled with couples stealing holiday kisses.
Attendees also had the opportunity to win prizes and out bid one another in the silent auction. Auction items included a Grand Canyon National Park Pendleton blanket, camelback backpacks, dinner for four at Canyon Plaza and We Cook Pizza, a retreat package to Flagstaff, gift card to McDonalds, flight for two with Papillion Helicopter, Bear fetish necklace on a silver chain, Shamrock foods steak pack, overnight package in Prescott, golf for four at Elephant Rock Golf Course in Williams, a Starbucks gift basket, dinner for two at the Grand Canyon Squire Inn, an overnight package at Lake Powell, an eight day river trip for two with Grand Canyon Expeditions, a five day Eureka-Great Escape getaway in Mesquite, Nev. and a medal horse statue won by Clarinda Vail.
The winner of first place $5,000 cash raffle prized went to Clay Ann Cook. Blanca Valerio won second place with $3,000, Red Feather Lodge won $1,000 which will be given to an employee at their Christmas party, Susan Manganiello won $100, Francisco Herrera won $100, Jeff Bubier won $100, Peggy Sterns won $100 and Eric Albanese won $100.
Christine Chavez and John Vail each won a new 32-gigabyte IPAD air during the card draw event.
The highlight of the evening occurred when Rotary named the 2014 Citizen of the Year. Julie Aldaz was awarded the honor. Aldaz was recognized as the longest serving member of Rotary on the Rim and for 27 years of dedication to her community.
"I am just so shocked," Aldaz said as she tearfully accepted the applause of her peers and a plaque for her many years of commitment.