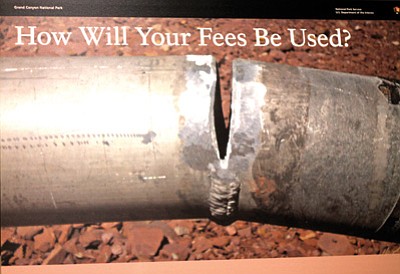 Originally Published: December 9, 2014 11:15 a.m.
FLAGSTAFF, Ariz. - A plan to raise the entrance fee at Grand Canyon National Park doesn't seem to concern too many people.
The park put on a public meeting Dec. 2 at the High Country Conference Center in Flagstaff to gather public comment on the plan but attendance was light.
The 60-day public comment period for the proposed increase opened Nov. 7. Kirby-Lynn Shedlowski, public affairs specialist for the park, said the public's response has been minimal.
The park is moving forward with the proposal after National Park Service Director Jonathan Jarvis approved it.
"His decision was to allow parks to go through public comment to see what the opinion would be for raising entrance fees," Shedlowski said. "So each park that collects fees is allowed to go through that process, if they so choose to raise their entrance fees. We have to gather public comment, analyze that public comment and then we submit that package to the regional (director) and Washington for consideration."
Of the 401 national parks in the country, 131 collect entrance fees.
Other parks seeking to raise fees include Yosemite, Grand Teton and Yellowstone.
"There could be a park out there that just says, 'We're happy with our fee the way it is' and not go through this process, but most parks are seeking a fee increase as well," Shedlowski said.
Larger national parks, including Grand Canyon are allowed to retain 80 percent of entrance fee revenue. This revenue is used to enhance and maintain visitor facilities and services.
The additional 20 percent helps fund smaller national parks that do not collect entrance fees.
Increased revenue at the Grand Canyon from entrance fees will go toward restoration projects. The park wants to use some of the increased fee money to work on the rim-to-rim water pipeline.
The pipeline is 12 and a half miles long, starting at the North Rim and ending at the South Rim. According to park officials, the pipeline supplies the only source of potable water for park visitors and is close to 50 years old -15 years past its replacement date.
Once the pipeline is replaced, a project that could take several years, the park will use funding for other renovation and maintenance projects, as well as park programs, transportation services and an increase in resource protection.
"The thing about fee money is it has to be used for certain amenities," Shedlowski said. "There are very specific guidelines on what you can use the fee dollars for."
The park has not raised entrance fees since 2006. At that time the seven day pass went from $20 to $25 dollars and an individual pass went from $8 to $12 dollars.
Park officials said they do not anticipate the fee increase to impact visitation to the Canyon.
"No, not at all," said Marlon Avantyr, business and fee manager for the park. "I don't think it will be the driving force."
Because many visitors to the park are international, Avantyr said the global economy must be taken into consideration where park visitation is concerned.
"We did a cost projection index (CPI) for the entrance fee when it became $25 dollars," Avantyr said. "If you look at inflation today, (current entrance fees) should be $45. So the $25 dollars back then (1991) should be $45 dollars today. I don't think going from $25 to $30 dollars is going to have an impact on people," Avantyr said.
One question raised at the meeting addressed the proposed increase for motorcycle entrance fees. The park wants to increase the rate from $12 to $25 dollars.
Up until this point, motorcycles have been charged a per person price of $12.
In 2011, the National Park Service started considering motorcycles as vehicles for the purpose of collecting entrance fees,. Federal regulations currently define motorcycles as 'vehicles.' The park has taken that into consideration and is considering motorcycles a motor vehicle.
"The cost for individuals is currently $12, which is what we charge motorcycles," Avantyr said. "So if two people enter the park on a motorcycle, it costs them $24 dollars. The park took that into consideration when determining the increase."
The public comment period will close on Jan. 7, 2015. Feedback will be accepted via email at grca_fee_increase@nps.gov and via U.S. Mail at: Grand Canyon National Park, Attention: Proposed Fee Increase P.O. Box 129 Grand Canyon, AZ 86023.
Comments received during the 60 day public comment period will inform the agency on public response to the proposed increase and on how or if a fee increase will be implemented.