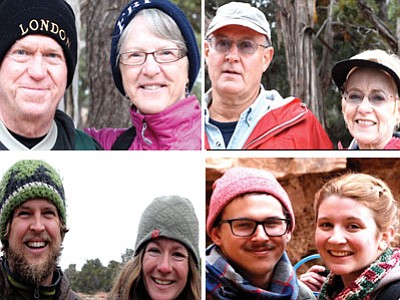 Originally Published: December 9, 2014 12:24 p.m.
Grand Canyon National Park is holding a 60-day public comment period for a possible entrance fee increase. The proposed increase would change from $25 to $30 for a single vehicle for a seven-day pass. The park's annual pass would increase from $50 to $60. The current rate of $12 per individual or motorcycle would increase to $15 per individual and $25 for a motorcycle.
John and Barbara Hatch
"It sounds like a good idea to me. Everything else is going up, time for raising fees. If the last time they were raised was in 2006, then it's time. You pay a little bit more for something and you have a tendency to appreciate it and do a better job of keeping it up too."
Ron and Annie Gordon
"We are seniors with our lifetime pass, so we are for the increases because we need it to maintain the standard of what the national parks have to offer."
Josh Pelletier and Andrea Bell
"We are from British Columbia and were actually talking about how it was quite reasonable compared to some of the parks on the west coast. Even just to camp it is $45 to $55 dollars for the site out there. National parks and state parks tend to be more reasonable then what we're used to in Canada."
Brandon and Perry Dail
"I don't think it's that bad of an increase because it's a seven day pass and if it will help the park, anything to help the park. As long as the money is going toward resource allocation and preservation, I'd be for it. We drove 16 hours to get here so $5 wouldn't be a big deal."