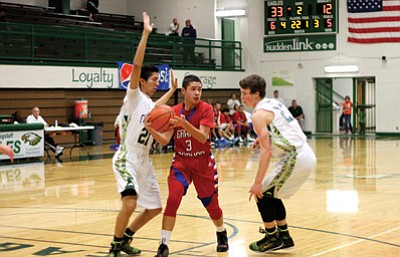 Originally Published: December 16, 2014 10:22 a.m.
GRAND CANYON, Ariz. - The Phantoms played three tough games at the Pepsi Tournament. Flagstaff High blew the Phantoms out of the water and Grey Hills and Mohave gave the Phantoms little time to recover.
Head coach Jenn Hogan said the team's toughest challenge is their inexperience at the varsity level.
"Having graduated the majority of our veteran players this past year we are definitely in a rebuilding era," she said. "Those boys played together for years and now we have a group just getting acquainted for the most part."
A lack of consistency in any level is the team's biggest struggle, Hogan said the team is not "showing up" for much of the game.
Against Flagstaff High, the team started out strong during the first quarter and into the second, even after Tyler Jones was sidelined with a knee injury.
Hogan said with the loss of Jones, the team was unevenly matched.
"Our rebounding efforts were minimal and a huge contributor to our losses over the weekend," she said. "It's not a huge situation to miss shots but you have to rebound and get more chances to shoot. We didn't do that."
Hogan said the Phantoms need to work on communication, playing as a team, working on defense and realizing their overall potential.
"I'll say this to anyone who makes the mistake of taking us like a grain of salt, other teams aren't beating us, we are simply beating ourselves," she said.
Hogan said that despite their losses during the tournament, the team was able to attack the paint with increased consistency and were able to increase depth from the bench. Notable players over the weekend include, seniors RJ Neehabe, Rafa Dimas-Gonzale, juniors Israel Herrera, Julian Clay and starting guard freshman Travis Moreno. Hogan said Moreno lacks experience at the varsity level but plays strong and will continue to gain momentum as the season progresses.
"I often have to remind myself that he is a freshman," Hogan said. "It's quite a daunting transition starting at the varsity level, straight from the middle school arena and he' s handling it very well."
During the first half against Flagstaff High Jones was sidelined after a fall and his knee remained an issue for the rest of the tournament. Despite his injuries, Jones came out on top, statistically, for each game.
Hogan said Jaru Velazquez and point guard Nick Gomez normally lead the charge during the game with the rest of the team following their leadership.
"That's a lot of pressure on any one player but he handles it extremely well. Jaru is a force in the lane and I'll be looking for a far more aggressive role from him offensively," Hogan said. "I want to see Nick be more aggressive with his field goals and in the paint. He's doing a fantastic job at the point and I look forward to seeing him progress throughout the season.
Hogan said the ability to read both the offense and defense is a priceless asset and not an easy thing to come by in high school ball. Despite their losses at the Pepsi Tournament, Hogan said she's not worried for the team.
"We will eventually catch our stride and when we do, watch out," she said.
The Phantoms play at Red Mesa on Friday and at home against Rock Point on Saturday.
Lady Phantoms face tough losses during Pepsi Tournament
The Lady Phantoms faced Mohave High during their first game at the Pepsi Tournment with a 59-9 loss.
The lady's went on to play Chinle High on Friday night's game. Again they lost the game 61-11.
On Saturday, they played their final game against Red Mesa.
"I already knew how they'd play," head coach Jeff King said. "They're a running fun team and shoot quick."
King said the Lady Phantoms attempted to play defense during the game against Red Mesa but still lost 61-38.
"We ran different plays. Our defense strategy was man to man and it worked but they started knowing that we were going man to man and began running their players offensivly and took it from there," he said.
The Lady Phantoms play at Red Mesa on Friday at 6 p.m. and at home on Saturday against Rock Point High School at 4:30 p.m.