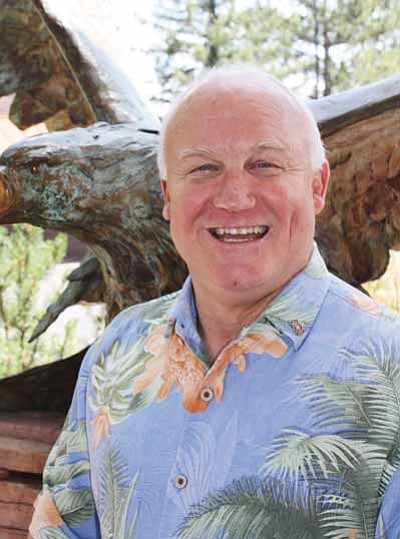 Originally Published: January 7, 2014 10:44 a.m.
Happy New Year Tusayan and Grand Canyon area residents,
The New Year brings thoughts over the past year and plans and hopes for the coming year. As we look back, we see many areas of success and growth for our town and community. The new sports court and kids play area are two very visual pieces of our town's ability and action in improving the quality of life for our residents and their families. The clearing of the land for the next phase in the Community Park is evidence of what partnerships and proper planning can do to move projects forward. Another success was the way our community pulled together in handling the challenge of the Park closure this last fall. Businesses and residents reacted in a positive respectful manner and raised funds to work with our governor to get the park reopened. The town's efforts to support the Fire District with funds for a new ladder truck and helping to pay for two positions, reflects a good partnership. The town's progress in adopting a new zoning ordinance that reflects our community's uniqueness, after hard work by the Planning & Zoning Commission, was another goal achieved in our town's maturity. After several town hall meetings, we have a draft general plan that will help guide our community over the next 10-15 years. The final will be acted on in the near future after some suggested changes are reviewed.
It has been a long year of working to move our agreement with the Stilo group forward. After advising them of default, the town has worked with them to bring about an amendment that provides a better path for success. At the same time the council has shown that it is going to continue to hold the developer accountable in a fair and consistent manner as it would any land owner and not simply rubber stamp any request or application.
Another great highlight was the hiring of Will Wright as our new town manager, after more than a year of looking and waiting for a good fit. He has certainly brought some good experience and leadership to our team. We were also fortunate to have had an experienced interim town manager in Tami Ryall to keep the town and council moving forward in the meantime. Then the hiring of maintenance staff has helped the town round out its great team and be able to be more responsive to community needs as we grow.
As we look to the New Year, we are excited about the continuing work on a number of town codes, finishing the general plan and getting back on the track of bringing affordable housing to our residents. This will entail passing an amendment with Stilo and then becoming the applicant with the Forest Service to get access to the develop parcels. We will also be working with our engineering consultant on potential plans for improving our storm water system and the Forest Service on the creation of some detention ponds that together will better handle the monsoon rains inside our community. The town will be bringing on some new equipment that will help us take on functions that have been contracted out in the past and be more efficient. We will be working with the school board as we look at some storage facilities at the Community Park.
As always, we look forward to working with the National Park Service and keeping our park open and available for a quality visitor experience as one community. We will continue to work with our Congressional delegation to get The Public Access to Public Lands Guarantee Act passed and protect us from future government shutdowns of the park. The council will be holding a retreat in the near future to create a new plan of action for 2014/15. We will be coming to the voters to renew our Home Rule approval that allows the town to create a spending budget as opposed to using the state's limits. There will be a vote in the fall, as well as the election of three council positions. The council will be reviewing and then re-appointing the P&Z members this year. We look forward to residents letting the council know of any interest in serving on this Commission or other committees. We have a year of action ahead of us and we are excited about the opportunity to continue to build our town with the support and interaction of our residents. We continue to encourage our residents to become involved in building their community.
We were recently asked about whether the Townsite Act was a viable option for our community in gaining land for housing. We have met with the Forest Service to discuss again our understanding of where we stand. Once again we were advised that since we still have vacant private land available in our town that could be used for that purpose, we would probably not be eligible to purchase land through the Townsite Act. We also inquired about the purchase of private land known as inholdings that could be exchanged with the Forest Service for land that could be used for housing. The process would take 5-7 years, we would not only need to pay to purchase the land from the private landowner, but we would also have to pay for a National Environmental Policy Act on both the inholding land and the Forest Service land we wanted to acquire for housing. We found this would be very costly and was not a faster or less expensive option than we have with the current developer. As a note, the council had looked at this option a few years ago and came to the same conclusion at that time. The council will always consider options and look for ways to improve our residents' quality of life. We are committed to bring affordable housing to our community as quickly as we can.
The council's next meeting is tonight at 6 p.m. and we encourage residents to join us and share their thoughts.
We wish all of our community, outside or inside the park, a very happy and prosperous New Year, filled with a sense of community and pride.
Respectfully,
Greg Bryan
Mayor, Town of Tusayan
gbtusayan@gmail.com
(928) 638-8401