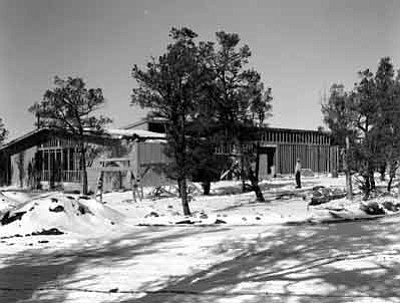 Originally Published: January 21, 2014 10:59 a.m.
GRAND CANYON, Ariz. - Grand Canyon National Park's Horace P. Albright Training Center is now listed in the National Register of Historic Places.
The only National Park Service (NPS) training center in the west, the center embodies the simple, practical and modernist design of the Mission 66 era.
The center is a single story building with administrative offices and classrooms, and five two-story student dormitories. It is the first and only non-residential or visitor building of the Mission 66 era to be listed.
Restored in 2006, the center maintains a high degree of quality workmanship exhibiting the utilitarian design of the Park Service of the 1960s.
The center was listed as an historic place on Sept. 30, 2013 under criteria for architecture, education, community planning and development. The building is also an example of the funding and construction strategy of the Mission 66 era.
The center serves as the primary training location for new employees, as it has since the 1960s when it hosted 'Ranger Operations.'
From that early curriculum to today's fundamentals courses, the Albright Training Center welcomes as many as 700 new employees annually.
Modernist architecture used new inexpensive materials and labor saving techniques, many of which were developed by the military during World War II.
Mission 66 practitioner NPS architect Cecil J. Doty designed the center. Around the same time, Doty designed a majority of visitor centers including Grand Canyon, Joshua Tree, Olympic and Colorado National Monument.