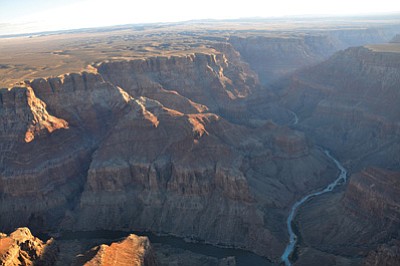 Originally Published: January 28, 2014 10:44 a.m.
PAGE, Ariz. - On Jan. 24 at 5:30 p.m., Coconino County Sheriff's deputies received a report of a possible base-jumping fatality near the confluence of the Little Colorado River and main Colorado River channel.
Friends of the base jumper waiting on the canyon floor reported him missing after he attempted a second jump from the canyon edge.
After hiking out of the canyon they were able to see their missing friend, 41-year-old David Stather of Calgary, Canada, approximately 2,000 feet from the top of the canyon.
Stather was using a popular wing suit and parachute worn by many jumpers in the sport.
Helicopter attempts to reach Stather that evening were not possible because darkness and lack of visibility.
The next day, an Arizona Department of Public Safety helicopter assisted Coconino County Sheriff's Office deputies and Search and Rescue in locating Stather.
He was confirmed dead from his injuries because of a fall trauma. Stather was air lifted from the canyon.
David Stather was a well-known and respected respiratory therapist and surgeon at the Alberta Health Center in Canada. He is survived by his parents who reside in Guelph in the Ontario Province of Canada.
Coconino County Sheriff's Office and Coconino County Medical Examiner's Office are currently investigating the incident.