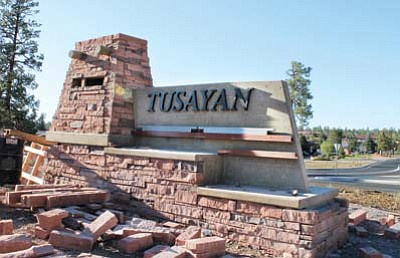 Originally Published: March 25, 2014 11:17 a.m.
TUSAYAN, Ariz. - Whether or not to change the town of Tusayan's name was a hot topic at Tusayan Town Council's March 19 regular meeting.
Mayor Greg Bryan said council members talked at length at their February retreat about the changing Tusayan's name for marketing reasons and better clarity on its location.
"I know that as mayor, and the variety of places I go, we are consistently being confused with Tucson," Bryan said.
Bryan added that the change could be as simple as renaming Tusayan, "The Town of Grand Canyon," because of its proximity to the park.
If the town were to change its name, it wouldn't need to dissolve its incorporation then reincorporate under the new name. Instead, council members would determine if it's in the community's best interest and approve adding the item to the August election ballot. Town residents would then vote on whether or not they wanted the change. If the item doesn't go on the ballot this fall, the town would have to wait until the 2016 election year to add it.
The town plans to conduct a branding study, partnering with the Grand Canyon Chamber and Visitors Bureau, before making any decisions.
Council member Craig Sanderson said the town's name is an important issue that should be discussed.
"To me it's clearly not a name change for the sake of change, it's more for a benefit to the community," Sanderson said. "If it doesn't benefit the businesses of the community there's no reason for change."
Tusayan Fire Chief Robbie Evans told council members he was opposed to the idea. The station would have to change all decals, uniforms and signs, which would cost money.
John Thurston said if the change was to get more people to come to Tusayan, he didn't really see that happening.
"People are coming to see the Grand Canyon. Not Tusayan, not south Grand Canyon, or any other name," Thurston said.
Clarinda Vail echoed Thurston's sentiment, and showed council members the results of some Google searches she made by typing in different keywords such as "Grand Canyon hotels," and "Grand Canyon hotel." All Tusayan hotels were listed under each search.
"What I really want to say with passion to you all is that I don't think it should be done arbitrarily, Tusayan has a history, back to the entire area," Vail said. "There's going to be the cost of letterheads, of websites, everything that's already been done."
Mentioning Tusayan's role in the fight to keep the Grand Canyon National Park open during last October's government shutdown, Vail said the town's name has grown in recognition.
"My uncle was talking to somebody in Wisconsin, saying he was with a hotel here in Tusayan, and the man said, 'does it happen to be Red Feather Lodge?' All the way in Wisconsin, because of the press that happened during the national park closing," Vail said.
Council decided to put on a town hall meeting, led by the Grand Canyon Chamber of Commerce and Visitors Bureau, for community members to talk about the advantages and disadvantages.
"We as a council would then respond to what comes out of that community meeting," Bryan said. "It needs to be a decision of the community."
A date for the town hall meeting has yet to be determined.
More like this story