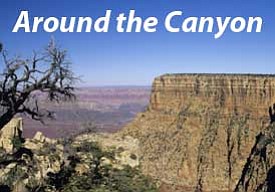 Originally Published: November 4, 2014 10:47 a.m.
Grand Canyon Recreation Center, Polar Express Train Ride Nov. 6
On Thursday, Nov. 6 at 3:45 p.m. the Grand Canyon Recreation Center, 2 Mohave Street, Grand Canyon, is taking a group to Williams, Arizona to ride the Polar Express Train on the Grand Canyon Railway. The trip costs $10 per person, the recreation center is taking reservations for the trip. The group will meet in the lobby of the recreation center and will leave from there. More information is available from the recreation center at (928) 638-3389.
Girls on the Run, 5k at Buffalo Park Nov. 8
Girl's on the Run with Grand Canyon School will run a 5k Nov 8 at Buffalo Park in Flagstaff, Arizona. The run starts at 10 a.m. Girls are matched with running buddies who sign up for the race. Girls on the Run is open to girls in third through fifth grades and sixth through eighth grades and is open to home-school children. More information on being a running buddy is available by visiting gotrna.org
Grand Canyon Village, Community Yard Sale Nov. 8
Local residents and vendors are welcome to join and visit the community yard sale on Nov. 8. The sale will be held at the Grand Canyon Recreation Center, 2 Mohave Street Grand Canyon. The event will be moved to the center's multi-purpose room in the case of bad weather. Set up begins at 7:30 a.m.. Tables can be reserved in advance at 928-638-3389.
Grand Canyon National Park Native American Heritage Month Celebrations Nov. 11 and 12
On Nov. 11 and Nov. 12, Shrine of the Ages at the Grand Canyon, will host celebrations for Native American Heritage Month, sponsored by Grand Canyon National Park. Nov. 11 at 7:30 p.m. Native flute player, Milton Tso will perform, followed by the Apache Crown Dancers from Cibecue, Arizona. On Nov. 12, at 10 a.m. the Apache Crown Dancers will be performing at the Grand Canyon Visitor Center at Mather Point. At 12:30 p.m. at Shrine of the Ages,a special presentation of 'An Outlook of the Diné people as a Transforming Nation of the 21st Century' will be given by Deon Ben. At 3 p.m. Byron Shorty will present 'Remembering Hweeldi: Experiences and Reflections from Retracing the Navajo Long Walk." The evening program starts at 7:30 p.m. at Shrine of the Ages starting with a Grand Canyon Veterans presentation of colors and invocation, followed by Hopi Koyalas (clown) Dancers at 7:35 p.m. and Native comedians James and Ernie at 8 p.m. and retrieving of the colors ceremony by the Grand Canyon Veterans at 8:45 p.m.
Grand Canyon Rotary on the Rim, Holiday Dinner Dance Dec. 6
Dinner and Raffle tickets for Grand Canyon Rotary's Denim and Diamonds dinner dance can be purchased. The event takes place at the El Tovar Hotel, Grand Canyon, Arizona Dec. 6. and features live music from The John Rueter Band and a raffle with winnings up to $5,000 cash. Doors open at 6 p.m., dinner tickets are $50 per person and raffle tickets are $20 each. More information is available by visiting gcrotary@netzero.net or call 928-638-0333.
More like this story