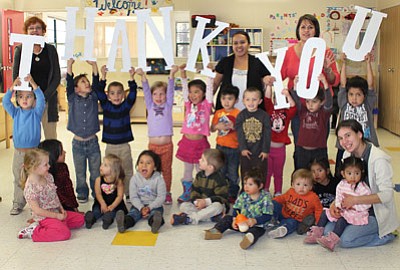 Originally Published: November 25, 2014 4:32 p.m.
To the editor:
On this Thanksgiving Day, Kaibab Learning Center would like to make a special thanks to all the people and businesses in the Grand Canyon, Tusayan and Williams communities. Without them we could not keep our doors open and serve our community.
We would like to thank the following: Big E, We Cook Pizza and Pasta, Imax, Squire Inn, Pink Jeep, Grand Hotel, McDonald's, Papillon,Wendy's, Williams-Grand Canyon Brewery, Elephant Rocks Golf Course, Grand Canyon Recreation Center, Suzan Avantyr, Amanda Wallander, our Kaibab Learning Center board members, Kaibab Learning Center parents and volunteers, the band Six Bricks Thick and First Things First.
We greatly appreciate the continued support we receive from the Grand Canyon National Park Service, Xanterra, Delaware North Company, and Red Feather Lodge. The National Park Service has made very important improvements for the infants and one and two year old classrooms. The park rangers are always present at our events. Thank you Delaware North for all the donations and for including us in your new plans for the community. Thank you also to Red Feather Lodge's yearly contributions which help further our children's education.
Because of the community's continuing support we are able to offer a higher quality of education and a safe place to serve our community. We are fortunate to be part of such a wonderful community.
Many thanks,
Kaibab Learning Center staff and students