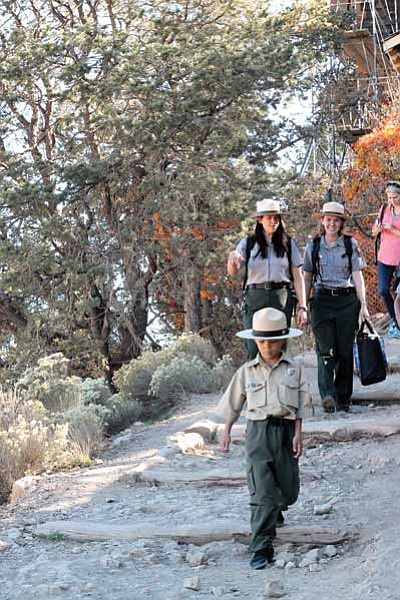 Originally Published: October 28, 2014 12:27 p.m.
GRAND CANYON, Ariz. - Gabriel Lavan-Ying wished to be a National Park Ranger in Yosemite National Park. On June 3, 2014 Gabriel got his wish.
After going through training with Yosemite's Park Rangers, United States Magistrate Judge Michael Seng and Yosemite National Park Superintendent Don Neubacher swore Lavan-Ying in as an Honorary Park Ranger. Gabriel helped fight a wildland fire, went on a naturalist walk, and helped aid in the search and rescue efforts of an injured hiker. Approximately 300 people, including Yosemite residents and rangers along with Gabriel's family, watched as Gabriel received his badge.
Gabriel recently celebrated his ninth birthday. He was eight years old at the time he became a ranger in Yosemite. Gabriel is in the third grade and he and his family are from Gainesville, Florida. Gabriel has Ehlers-Danlos Syndrome, an incurable and degenerative disease that affects the body's connective tissues, including the skin, joints and blood vessels. Through Make-A-Wish Foundation and the efforts of Yosemite National Park, Gabriel fulfilled his dream of becoming a park ranger. The Make-A-Wish Foundation helps grant wishes for children between the ages of two and a half to 18 who have life threatening medical conditions.
After becoming a ranger last summer, the Make-A-Wish Foundation invited Gabriel to make an appearance at the organization's national conference in Phoenix. Since the family was in Arizona and have always wanted to see the Grand Canyon, Gabriel, his twin sister Angelic, older brother Dominic, and mother decided to spend the weekend at Grand Canyon National Park. Arriving Oct. 23, the family spent the day in Flagstaff visiting Lowell Observatory before driving to the Canyon Oct. 24.
Gabriel's mother Tara Lavan said he has always loved going to national parks and has always had a fascination with rangers.
"We travel to parks all the time," said Lavan, "which is the reason he wanted to
be a park ranger. He is always interacting with the rangers. They're always teaching him things and that's what he said when he wanted to have his wish. 'I love talking to park rangers and I thought, 'Why can't I be one'?' That's what he told Make-A-Wish and that's how his wish came to be. He really aspires to be one and thinks rangers are so amazing."
Grand Canyon Park officials said they were excited and honored to have Ranger Gabriel as their special guest and had a whole day planned just for him.
"We are incredibly excited to have Ranger Gabriel with us today and we have a lot of great activities planned for him, his siblings and his family," Education Technician Ranger Anne Winters said. "We really look forward to having him explore the National Park with us and learn what he wants to engage in."
Both Winters and Environmental Education Specialist Ranger Amala Posey said even though they have an itinerary planned, they wanted Gabriel to let them know what it was he wanted to participate in and see during his visit to the Canyon.
"He wants to learn about the parks and the educational fun things," Posey said. "It's his visit so we want him to guide us. What does he want to learn about? We have tons of things we can teach him, but we also want him to tell us what he wants."
Gabriel's day started with the family's first view of the Grand Canyon.
"I've never even been to the Grand Canyon," said Lavan. "This is a first for all of us."
After taking a look over the Canyon's edge and posing for pictures, Gabriel and the Grand Canyon rangers were already best friends, as they exchanged information and details about ranger life.
Posey and Winters planned a scavenger hunt for Gabriel and his siblings before everyone went on a hike down the Bright Angel trail. On the trail they hiked to an Archaic-historic pictograph site, Mallory's Grotto, to learn about ancestral use of the trail through time and created a split twig figurine.
Next on the agenda was lunch at the Market Deli followed by a tour of the Distance Learning Studio and a behind the scenes tour of the Grand Canyon Visitor Center. At the Distance Learning Studio, Gabriel recorded his own program, to share with his classmates and friends when he returns home. After a walk to Mather Point, Gabriel met with another special guest to the Canyon visiting from Washington D.C., National Park Service Director Jonathan Jarvis.
Gabriel and his family plan to visit other national and state parks. Lavan said the family likes to spend Christmas every year at a state park.
"We do hope to see as many national parks as we can over the next couple years and over our lifetime," Lavan said. "Although probably not this year, we have a lot of state parks in Florida that are actually quite gorgeous so we continue to visit those when we have a chance. (Florida state parks) are easier to get to since we can drive to those."
From now on the National Parks of the United States can rest easy knowing they have a very special ranger as one of their own. Gabriel said he is up to the job and is currently enjoying every minute of his new position.
"I went on a bunch of trips and I saw the rangers and the animals and the habitat and I thought, 'Why can't I be one?'" Gabriel said.
More like this story