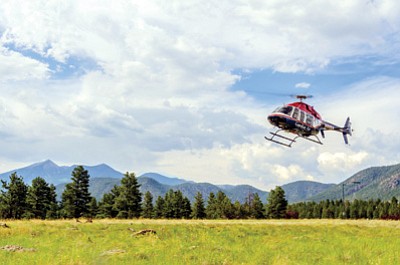 Originally Published: August 4, 2015 11:18 a.m.
GRAND CANYON, Ariz. - In an emergency it is comforting to know there is a quick option to get to the hospital.
Over the last 30 years the air medical flight transportation has become a large part of how patients get the help they need.
Air medical transportation is a relatively new industry but Guardian Air celebrates its 30th year Aug. 1.
"Thirty years is really quite an accomplishment in the air medical transport industry," said Emily Ross, emergency services liaison for Guardian Air. "A lot of the competitors in northern Arizona are hitting the 27 to 28 years in flight, because it's a new industry in general."
Since the industry itself is between 30 and 35 years old, this milestone is an important one for the company.
"We also have a couple things that set us apart from competitors," Ross said.
One of those is the quality of training its medical flight crews are required to have and the company's ability to provide state of the art equipment for its personnel.
While most ground ambulances have paramedics and emergency medical technicians (EMT) caring for patients, Guardian Air staffs each flight with a flight nurse and a flight medic.
"So a little bit higher training/education level and they pick the employees pretty much from the top of their class," Ross said. "They have to meet pretty stringent standards and then a rigorous training process after that in order to even be hired."
After an individual is hired, continual training is expected as well as bi-annual competency tests and most staff will help train other agencies.
The company requires nurses and medics to have at least three to five years of experience in an emergency department or critical care unit or busy 911 emergency response area prior to applying to be a flight crew member.
Medical flight crews with Guardian are regarded as some of Arizona's most highly trained teams, who are known to go above and beyond the call of duty.
Additionally, while most air medical transports are private industries, the fact that Guardian, who is owned and operated by Northern Arizona Healthcare, is a hospital based, non-profit organization is another attribute that sets it apart.
"What that means is that we get more money that filters back into Northern Arizona Health Care, that goes right back into state of the art technology and top of the line trainings," Ross said. "That money is just getting funneled right back into the best care possible and best training possible."
Over the last 30 years, Guardian has provided over 35,000 medical transports.
According to Guardian, the citizens and tourists of the communities Guardian serve, depend on its flights and its "angels" to bring the highest level of life saving and skills that can be provided.
Guardian has seven bases around the state, including its home base in Flagstaff, additional bases are located in Kingman, Cottonwood, Winslow, Tuba City, Page and Show Low.
The company started in August 1985 with one fixed wing airplane, a Cessna 414, with Mayo Aviation as the vendor.
Today Guardian owns seven Bell 407 helicopters and one Pilatus PC-12 airplane.
Air Methods pilots and mechanics operate and maintain the fleet. Many of Guardian's pilots have military training and experience and all have at least 2,000 hours of flight experience, and experience flying in high altitude mountain settings.
According to Guardian Air, the average pilot flying for Guardian exceeds 5,000 flight hours.
Guardian has 49 specialty trained staff members who are certified by the Arizona Department of Public Health Services, and the Arizona Perinatal Trust.
Additionally, Guardian is a member of Arizona's High Risk Perinatal/Newborn Intensive Care Program and is able to transport all patient ages and populations across the lifespan.
Guardian Air celebrated their 30th anniversary on August 1 with an exclusive celebration in Flagstaff.
"It's just such a nice, beautiful milestone to hit," Ross said.
More like this story