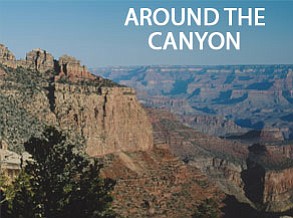 Originally Published: August 18, 2015 10:01 a.m.
GRAND CANYON, Ariz. - Upcoming news and events in the Grand Canyon, Tusayan and Valle area.
Echoes from the Canyon
On Aug. 22 at 8 p.m a living history program will take place at the McKee Amphitheater. The program features storytelling and live performances by Grand Canyon Park Rangers.
Tusayan Fire Department seeking volunteers
Tusayan Fire Department is looking for volunteers to join its department. Those interested in being part of the tradition and the excitement of firefighting while serving in the community are encouraged to become a volunteer. More information is available from Tusayan Fire Department at (928) 638-3473 or by stopping by the department Tuesday through Friday between 8 a.m. to 5 p.m.
Grand Canyon Music Festival starts Aug. 28 and 29
Grand Canyon Music Festival will be kicking off its opening weekend Aug. 28 and 29 with Catalyst String Quartet and cellist Maryanne Ramos exploraing three of the great classical music periods through major works composed by Beethoven, Brahms and Barlók and the music of Franz Schubert. The concerts will be held at Shrine of the Ages in Grand Canyon National Park at 7:30 p.m. The concerts cost $15 for adults and $8 for children (age 6 and up) and students. More information and complete schedule information and tickets can be found at www.grandcanyonmusicfest.org.
Girls on the Run sign ups
Girls on the Run, an after school program to help girls in third through fifth grade build confidence and learn to live healthy lifestyles while training for a 5K run, is accepting registrations for the fall season. The program meets twice a week, on Mondays and Wednesdays from 3:45 p.m. to 5 p.m. at Grand Canyon School. Regular program fee is $175, additional financial assistance is available. More information is available from www.gotrna.org and (928) 522-9855.
Youth Art exhibit
Ten teenagers, 14 days, 56 river miles, two rims and one Canyon - Grand Canyon National Park invites the public to stop by park headquarters to see this Youth Art Exhibit from July 17 to Aug. 31.
Grand Canyon Yoga
An all level yoga class, taught by Jennifer Allen, meets from 5:45 to 7 p.m. on Wednesday nights at the Grand Canyon Recreation Center, 2 Mohave Street Grand Canyon.
Rotary Day at Chase Field
Join the Grand Canyon rotary Club at Chase Field on Sept. 13 at 1 p.m. for a game between the Arizona Diamondbacks and the Los Angeles Dodgers. The Diamondbacks will be honoring Rotarians and Rotarian guests on the field before the game. Tickets for the event cost between $16 to $45, a portion of the ticket sells will go to the Rotary Foundation to help fight Polio around the world. More information about the event is available from Yvonne Trijillo at vonnee.gcrotary@gmail.com.
Zumba with Haley
Zumba with Haley is a free dance class. Zumba meets at the Grand Canyon Recreation Center every Monday from 7 p.m. from 9 p.m. Zumba is a Latin inspired dance fitness program. Participants should bring exercise clothes and water.
Grand Canyon Lions Club District D21
The Lions club meet the first and third Wednesdays of each month at 7:30 p.m. at the Canyon Plaza Resort, 406 Canyon Plaza Lane Tusayan.
Yongshidao Self Defense Class
Learn how to defend yourself with Mater Michael Martinez at his Yongshidao: A Warrior's Way Self Defense class. The class is free and meets twice a week, Sundays and Mondays from 7:30 p.m. to 9 p.m. at the Grand Canyon Recreation Center, 2 Mohave Street Grand Canyon.
Violin and piano lessons
Rachel Dryer is offering violin lessons to anyone interested in learning to play. Lessons are $15 for half hour lessons. She has played the violin for 15 years and teaches the Suzuki method. Rachel also offers piano lessons for those interested. More information is available from Rachel at 928-310-4327 or krachelsmith@gmail.com.
Grand Canyon School Boxtops for Education
Grand Canyon School is collecting Boxtops for Education and Campbell's Soup Labels for Education. The program is sponsored by Kellogg's products with each redeemed label worth between 10 cents to over a dollar. The money earned by the program helps purchase school supplies and equipment. Submission dates are May 30 and Nov. 1. Please save, cut and bring labels to Mrs. Lori Rommel at the Grand Canyon School office or to the following drop off sites: Kaibab Learning Center, Grand Canyon Recreation Center, Delaware North and Xanterra Human Resource office. More information is available from Lori Rommel at 928-638-2461 ext. 503.
Grand Canyon chapter of AA
Grand Canyon chapter of Alcoholics Anonymous meets Mondays, Wednesdays and Fridays in the Kachina Room of Kachina Lodge at the Grand Canyon. Meetings for the group, which has been in existence at the Grand Canyon for 15 years, begin at 7 p.m.
More like this story