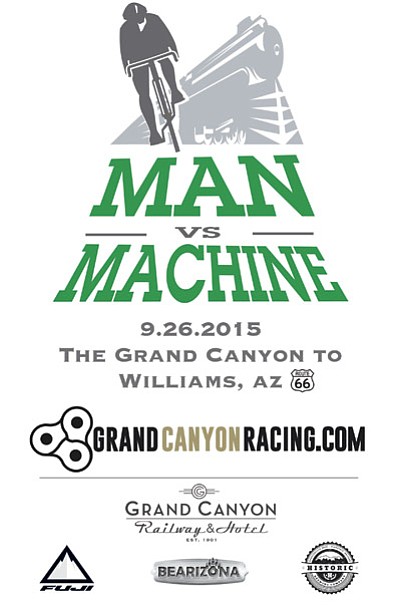 Originally Published: August 25, 2015 10:50 a.m.
TUSAYAN, Ariz. - Cyclist will be going head to head with a 1923 300 ton steam engine on a grueling 54 mile race.
The race will start at the Grand Hotel in Tusayan and will finish on historic Route 66 in downtown Williams on Sept. 26.
Grand Canyon Racing (GCR, organizer of the event, said registration is rapidly filling and is expected to be full in the next few weeks.
"Most races, on a first year basis, only get 100 to 150 (racers) and we have already exceeded that number," said Patrick Bohrman, co-founder of Grand Canyon Racing at the beginning of August. "It's still eight weeks to go, but typically a lot of registrations come in the next eight weeks."
Bohrman said GCR is expecting anywhere between two to three hundred racers.
"We are right on target, we are half way there. So I would anticipate that our median number is probably two to three hundred total," he said.
At the moment the race is not capped at a certain number, but Bohrman said if race organizers continue to see registrations grow at at steady pace they might consider capping the event.
"Only for safety precautions," Bohrman said.
On race day, cyclists will take on Grand Canyon Railway's steam engine No. 4960 - a 310-ton monster, for a 54 mile ride that has a 2,023-foot elevation change.
Cyclists will leave the Grand Hotel at 1 p.m. and head south on Highway 64 for 50 miles before ending up on historic Route 66 for the final four miles. The finish line will be on Second Street and Route 66 in Williams.
Local and state law enforcement, including Coconino County Sheriff's Department, Arizona Highway Patrol and the Williams Police Department will provide security for the race.
Proceeds from the event will also go toward the Williams High School Scholarship and will help fund a college scholarship for a senior at Williams High School. Other proceeds from the event will go toward the Williams High School Mountain Bike team/club.
Grand Canyon Racing is partnering with an internationally recognized bicycling manufacturer, Fuji Cycles, to help outfit the club.
"We are promoting Fuji in the race and in exchange we are getting free gear for the kids," Bohrman said.
The race is open to all types of racers.There is a three and a half hour time cap for cyclist to complete the race.
"This is definitely a majority recreational rider type of event," he said. "We have riders from 18 to as high as 60 to 70 years old. While we'll have some semi-pros and pros that we expect to sign up, right now it is definitely geared toward the recreational rider and geared toward those who want to come up and enjoy the entire weekend."
Registration for the race is $70 and includes a $25 additional option for a bus ticket transporting racers and their bikes to the starting line.
"What that allows is the rider to participate, ride back to Williams, hit the finish line and enjoy a beer and dinner and spend the evening there," Bohrman said. "We are just excited to be bringing it back and our focus for this race is to have an economic impact on Williams...we will (also) be starting right in front of the Grand Hotel in Tusayan."
Grand Canyon Railway is selling round-trip tickets and one-way tickets for those interested in riding the train during the race.
Train tickets for passengers who want to ride the train during the race can be purchased from Grand Canyon Railway for $75 for adults and $45 for children 16 and younger.
The day of the race the train will depart from the Williams train depot at 8 a.m. and will arrive at the South Rim around 11:30 a.m. and will depart the station around the same time as the cyclists.
The train will pull Pullman coach class cars, a cafe car and a luxury parlor car. A photo run-by will be featured on the North Bound trip for rail enthusiasts.
First place prize is $500 from the Grand Canyon Railway and Hotel, second place will receive a two-night stay at the Grand Canyon Railway Hotel and two first class train tickets for the Grand Canyon Railway and third place will receive two first class round trip tickets on the Grand Canyon Railway.
The race has been held only once before, in October 1991 and was won by professional cyclist Waitr Krzysztof.
Bohrman said this time around he believes there's a good possibility the cyclist will give the train a run for its money again.
"The one thing I keep hearing is fromJudge Rob Krombeen (Williams' Justice Court). He mentioned this, 'I think we're underestimating the technological advances of the bicycle now that they're carbon fiber,'" Bohrman said. "I echo that response, from 1991 to 2015, bikes have changed, but the course has not."
Following the race GCR invites everyone to enjoy live music, food and a beer garden at a post-race party that will be held at the parking area between the Williams Chamber of Commerce and the Grand Canyon Railway.
"So if somebody wants to come up, ride the train, have their family ride the train while they race the train and then (there will be) an after party that will be put on by Historic Brewing Company of Flagstaff afterward," Bohrman said.
GCR will have volunteer positions available for the event.
"We will have our volunteer meetings coming up in the next (few) weeks," Bohrman said.
More information and registration can be found at www.grandcanyonracing.com.
More like this story