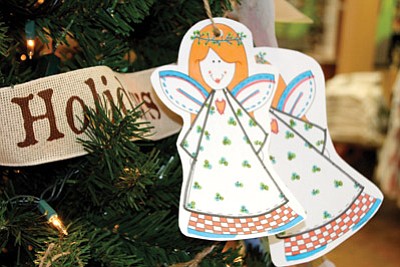 Originally Published: December 10, 2015 9:29 a.m.
GRAND CANYON, Ariz. - Carefully colored angels are hanging on the angel tree at the General Store in Grand Canyon Village's Market Plaza. The angels patiently wait for the public to help supply a memorable Christmas for local boys and girls.
The Angel Tree gift project is part of an annual community outreach program that helps supply Christmas gifts to children in the Grand Canyon and Tusayan communities. The program is for children 17 years and younger. Those interested can choose an angel from the tree and purchase a gift based on information supplied on the reverse side of the angel. The information includes the age and gender of the child. Age appropriate gifts in the $15 to $20 price range can then be dropped off at the General Store at Grand Canyon Village or at the Tusayan and Desert View Watchtower locations.
"Sometimes (the kids) are infants up to 17 years old," said Carrie Putz, assistant store manager of the Grand Canyon General Store and coordinator for the event. "I've got boy angels and girl angels. Sometimes when you get into the teens sometimes people will do gift certificates. That's fine too. Coats, gloves, hats that works too."
Gifts should be dropped off unwrapped. A wrapping party will take place Dec. 18 at the Grand Canyon Rec. Center's Piano Room in Grand Canyon Village from 6 to 8 p.m. Extra wrapping paper is welcome and those helping should bring their own scissors and scotch tape. Gifts need to be turned in by Dec. 14.
In addition to the Angel Tree gift program, an annual Food Basket Program will take place. The program helps families who are in need of extra assistance during the holidays and provides food products that can be used for a Christmas dinner and other non-perishable products. In the past, recipients have received flour, canned goods, pastas and condiments.
"Just necessities of your cupboard that you need," Putz said. "Things that can carry families through for awhile. The hams are always donated by Delaware North, but the rest of the food in the baskets is all by donations we get from the folks in the park. Usually through Lions' (club) and Rotary establishments."
Monetary donations are being accepted until Dec. 12. to help purchase items for the baskets.
"It's going to be close to 100 food baskets and then maybe 145 angel gifts this year," Putz said.
According to Putz, the angel tree gifts and food baskets are annual traditions that provide a way for the community to take care of its own.
"I think a lot of us have lived here for so long that we are a family away from family," she said. "That's how I've always thought of the people I work with, they become your family because your family is far away. I just think it's important to support the community. Everybody has been really good and a big help."
Food baskets will be provided to residents of Valle, Tusayan and Grand Canyon Village. Baskets will be built at the General Store in Grand Canyon Village. Volunteers are welcome. Basket building will take place Dec. 20 at 4 p.m. at the Grand Canyon General Store. Baskets and Angel Tree gifts will be delivered on Dec. 21 at 9 a.m. for the Grand Canyon and Tusayan residents and at 10:30 a.m. to Valle residents.
More like this story