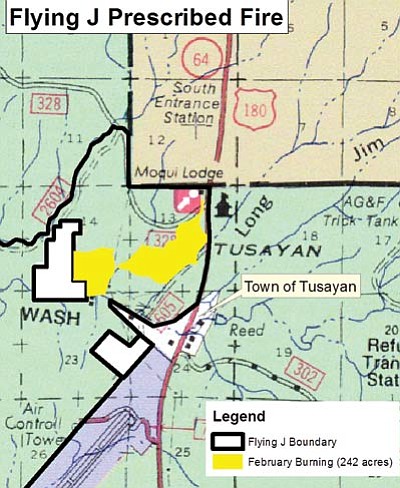 Originally Published: February 10, 2015 2:29 p.m.
TUSAYAN, Ariz. - On Feb. 10 Kaibab National Forest fire managers will conduct a prescribed burn. The burn will last for the rest of the week and is located northwest of Tusayan.
The purpose of the burn is to remove accumulated pine needles and light, scattered slash generated during recent thinning projects.
Implementation of the 242-acre Flying J prescribed burn could begin as early as Feb. 11 and continue through Saturday, weather permitting.
Fire managers are looking for northeast winds that will carry low-intensity fire through the area and push smoke to the southwest and away from Tusayan and Grand Canyon National Park.
The purpose of the Flying J project, located around Tusayan, is to reduce hazardous fuels, provide community protection and restore forest health. Fire managers focus on burning slash piles during the winter because of snowy conditions. However, recent dry weather is creating conditions appropriate for larger-scale, broadcast burning across the forest.
All prescribed burning on Kaibab National Forest is subject to approval by the Arizona Department of Environmental Quality (ADEQ) and appropriate weather and smoke ventilation.
More information on the Smoke Management Division of the ADEQ or to view prescribed burns authorized for any given day can be found by visiting http://www.azdeq.gov.
Kaibab National Forest fire information and updates are available through the Fire Information Line at 928-635-8311
More like this story