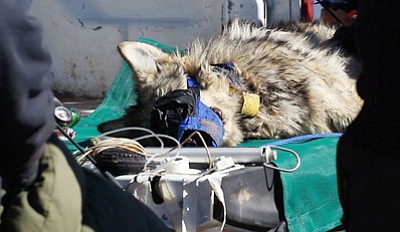 Originally Published: February 17, 2015 10:04 a.m.
RESERVE, N.M. - "We've got a wolf coming in!" Susan Dicks yells. A veterinarian and biologist with the U.S. Fish and Wildlife Service, Dicks is in an open field about 30 minutes outside of Reserve, a village of 300 in western New Mexico. Along side her are other agency veterinarians as well as volunteers and interns.
Everyone stops what they are doing and scrambles to get ready. A mat is laid out in a truck bed, syringes are pulled from supply bags and a data recorder is assigned.
They all turn at the distant sound of a helicopter. It lands, and out comes a veterinarian holding a limp Mexican gray wolf.
The U.S. Fish and Wildlife Service is doing its annual Mexican wolf count.
John Oakleaf, incident commander for the Mexican Wolf Project, says everything runs in stages.
A spotter plane finds the location of a wolf pack, and the helicopter flies under the plane to count the number of wolves in a pack. A select few have radio collars on them.
Once they target a wolf, the darter takes over, tranquilizing the animal with a drug that knocks it out.
The wolf is muzzled and placed on the open truck bed and veterinarians move in to begin processing it.
The wolf is weighed, vaccinated and an intern takes measurements.
Employees of U.S. Fish and Wildlife Service then drive it up the mountain and release it back into the wild to find its pack.
The U.S. Fish and Wildlife Service has been conducting counts on Mexican gray wolves since 1998.
"We started with only seven wolves," says Sherry Barrett, Mexican wolf recovery coordinator for the U.S. Fish and Wildlife Service. "From those seven wolves we built a captive breeding population that now hovers between 215 and 300 animals."
Approximately 80 wolves run free in the Blue Range Wolf Recovery Area, which spans from Arizona to New Mexico.
The U.S. Fish and Wildlife Service just announced a revised rule, set to take effect Feb. 17, that expands the area in which the Mexican wolf can freely roam.
"We did this to allow the population to grow," Barrett says.
Blue Range Wolf Recovery Area currently includes the Apache and Gila national forests. Under the revisions, wolves can occupy any one of three set zones.
Wolves may be initially released and naturally disperse into Zone One: the Apache, Gila and Sitgreaves national forests; the Payson, Pleasant Valley and Tonto Basin Ranger Districts of the Tonto National Forest; and the Magdalena Ranger District of the Cibola National Forest.
Zone Two has been designated as the Mexican Wolf Experimental Population Area. Only pups less than 5 months old will be initially released in this area.
Zone Three takes up the entire area south of Flagstaff and Albuquerque in Arizona and New Mexico, respectively. No initial releases or translocations will occur here, but wolves may run freely in this area.
"Zone Three is a limited habitat," Barrett says. "We don't expect the wolves to go there, but if they do, they can run freely. We just might be a little bit more aggressive in that area when it comes to the management of them."