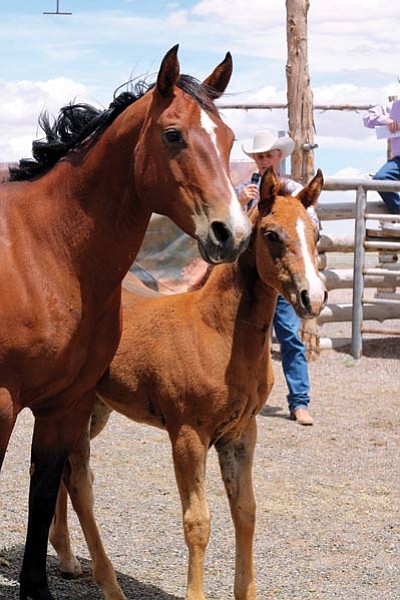 Originally Published: July 14, 2015 9:56 a.m.
GRAND CANYON, Ariz. - Thirty-one colts were auctioned off during the Babbitt Ranches annual colt sale July 11. The horses go to places as far away as Canada and as close as the Navajo Nation.
Babbitts, one of the largest ranches in northern Arizona, has gained national and international recognition for its horses. The annual sale bring in people from across the country, while sending only a handful of people away with a sale slip for one of its colts.
"There's a lot of folks in this area and Babbitt (Ranches) weren't selling horses years ago and people wanted some of them," said Victor Howell, ranch manager for Babbitt Ranches. "So we just started raising a few more to give them an opportunity to have a Babbitt, Hashknife bred horse."
Babbitt Ranches, established in 1886, stretches across almost 700,000 acres of northern Arizona and brushes right up against the South Rim of the Grand Canyon. Between calves and mother cows, the ranch runs around 7,800 to 8,000 head of cattle.
"Babbitt's has been raising horses and selling horses since they started," Howell said. "They've been in business 125 years, but this actual sale has progressed over time since my dad started in about 1972."
The family owned ranch is an LLC and is operated by the Babbitt family through share holds. With a ranch the size of the Babbitt operation, having an adequate number of horses for everyday use has always been essential.
"Pretty much a ranch this size has to raise horses," said Scott Westlake, a ranch hand for the Babbitts. "Like me, it takes seven horses to keep mounted, and there's 10 like me here, so right there, there's 70 head of saddle horses just to keep your cowboys mounted. At a point, you have to raise horses, so they just took it a step further and added extra mares and then marketed them."
Babbitt Ranches are known for their Hashknife Brand of horses, which started in the 1920s, using a stud horse named Driftwood. Driftwood is the cornerstone family of the Hashknife Brand and most Babbitt colts can trace their lineage to Driftwood.
While the colts are bred to be working ranch horses, they have the skills to be used in many competitive areas, including roping and barrel racing. However, after the colts are sold they will go to a wide variety of homes.
"The Driftwood bloodline is kind of a competitive bloodline, like a roper type horse - a real competitive type of horse," Westlake said. "They have capabilities that go a long ways in a competitive type market (although) bunches of them will end up in town."
The sale, which started out as friendly transactions between friends, has grown into a renowned horse sale where people from all over the world stop in.
"It started with just a few people coming out, we would have a handful of fillies and if you wanted it you put your name in the hat and if you drew it, it would be a set price," Howell said. "Now we have people from Kentucky, Canada and Mexico that have actually bought horses, but we've got people that hear about it from the Grand Canyon and they stop in here from Europe (for the sale)."
Ron Burndt has been an auctioneer since 1970 and has worked as a horse auctioneer in 21 states. Auctioneering the Babbitt sale, for Burndt, is a privilege. He said he and the Babbitt Ranches look forward to it each year.
"We look forward to it, we enjoy it, we have established friendships, relationships with a lot of the people from a lot of different walks of life and areas," Burndt said. "It's remarkable how things that you never, ever dreamed about doing, thought about doing, planned about doing happened into your lifetime. It's just an amazing, amazing experience and that's what this colt sale has been for me."
Of the 60 mares brought in off the ranch, 31 of their foals were selected for the sale.
"Out of the 60 mares there will be about 45 colts, because some of the mares are open," Westlake said. "Vic (Howell) goes through the mares and takes a set of them that he wants to keep - to become saddle horses for us, the rest of them they sell here."
The colts live on the west side of the ranch, by the Grand Canyon and will be weaned over the winter and halter broke. Around March, as yearlings, they will be picked up by their owners.
"A pretty big chunk of the horses will go to the Navajo people. A lot of Navajo ropers will buy the horses and then you will get some people from as far away as Canada," Westlake said.
According to Howell, horses have been sold and transported around the U.S. as well as into Mexico.
Brian Kemp from Renfrew, Ontario, Canada bought four Babbitt foals this year...three filly's and a stud. Kemp said he read about the sale in an issue of Western Horseman magazine and decided to go to the sale last summer. After visiting the Babbitt ranch again in December, Kemp decided it was time to purchase a few of his own.
"I like the breeder, I like the country and I like the people. Vic Howell's been very kind to me, so I did it," Kemp said. "I'm pretty happy about it."
While Kemp has considered breeding the colts, he said right now they are a new hobby for him.
"So I have a Babbitt breeding unit now to take home and I'll do what they do here, that's the logic," he said. "This is going to be my new hobby."