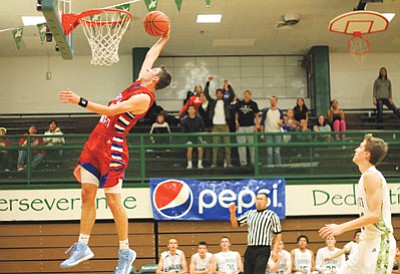 Originally Published: June 9, 2015 10:05 a.m.
GRAND CANYON, Ariz. - For many athletes at Grand Canyon High School (GCHS), the best part about participating in sports is traveling to and from games.
It is not that they like the cramped seats, the feeling of restlessness during the frequent four-hour bus rides or the rumbling of the engine interrupting their new favorite hit - what they love is being surrounded by their second family. It's home away from home.
"When we travel, we get a chance to bond more as a team," said Tyler Jones, a seventeen-year old senior and athlete at GCHS. "You get to hang out with your friends. It's like you're actually a family."
The boys and girls take turns sitting in the back of the bus, and are separated by their coaches who sit in the middle. Everyone wants to sit in the back of the bus. It offers them a sense of privacy so they can chat in peace.
"Did you see the game last night?"
"He asked you out!?"
"Did you finish your English paper?"
Those are just some of the conversations heard when traveling to away games with the Phantoms - with conversations changing just as often as the wheels on the bus turn.
Grand Canyon High School, located in the heart of the Grand Canyon National Park - is just a seven-minute walk from the edge of one of the Seven Wonders of the World. The high school consists of approximately 80 students, many of whom participate in multiple sport programs because tryouts are out of the question for this small school.
Traveling is something Grand Canyon community members are used to. A majority of the locals travel to Flagstaff - approximately an hour and a half drive - for privileges that are easily taken for granted by people who live in places like the Valley.
They travel to Flagstaff to stock up on groceries at the nearest Sam's Club. To get an oil change at the nearest Jiffy Lube and to partake in the small luxury of going to see the newest Avengers movie that just hit Harkins Theatres.
"That's something you recognize when you live in a remote location, so it doesn't necessarily bother me. It's just part of what you live with when you live at the Canyon," said Laura Jones, parent of a GCHS student-athlete and member of the Grand Canyon Booster Club.
Jones has lived at the Canyon for 20 years, with her husband and two sons. Her oldest son Tyler, has been involved in basketball, soccer and track programs since he was a freshman.
A majority of the students have been a part of the community from a young age; some have lived at the Canyon their whole lives - allowing them enough time to grow fond of the long commutes where they are able to participate in things others perceive as normal amenities.
But at what point does the traveling become a burden on these students?
In September 2014, Tyler Jones was one of four GCHS students to be hospitalized for heat exhaustion sustained during a soccer game against Thunderbird Christian Academy in Scottsdale.
"They scheduled the soccer game in the heat of the day, it was like 110 degrees for the entire game," Jones said. "I was really cold, I couldn't stop shivering, and I couldn't keep water down."
The co-ed team and their chaperones were forced to overnight in Scottsdale on a Wednesday - a school night. The students did not return to school until 11 a.m. the following day, and were excused from their classes so they could rest after their eventful evening.
GCHS teachers try their best to work with students through the occasions in which sports conflict with homework due dates, but, for a school that is only in session Monday through Thursday, it poses a challenge.
While extending due dates and scheduling games over the weekends may not be the ideal solution to long hours of travel time, administrators and student-at GCHS continue to do what they can to make up for lost time.