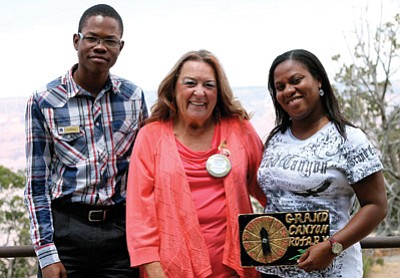 Originally Published: June 30, 2015 10:33 a.m.
GRAND CANYON, Ariz. - During its June 24 meeting, Grand Canyon's Rotary on the Rim welcomed ClayAnn Cook as president for the upcoming rotary year and recognized her donations exceeding over $1,000 to Rotary by naming her as a Paul Harris Fellows.
Previous Paul Harris Fellows recipients include Julie Aldaz, Barbara Shields, Yvonne Trujillo, Clarinda Vail and Greg Bryan.
Other incoming Rotary officers included Rob Gossart as club secretary, Julie Aldaz as treasurer and Yvonne Trujillo as president-elect for the club.
Shields, the 2014 Rotary president, was recognized for her efforts as Rotary president and received a plaque for her service.
"Sometimes it can be kind of hard, sometime it will be really easy, but for the most part it's really fun, I think," Trujillo said as she presented Shields the plaque.
Cook, who will hold the office for the next year, said she would like to see membership increase and a fun twist to be part of upcoming meetings and events for the club.
"I thought about this over the last couple of weeks and some of the things we have all talked about is that we need to get back to the cards," she said. "We have to do some stuff that makes this really fun."
Getting back to the cards could include implementing games before each meeting and other getting to know one-another type of activities before meetings. Cook believes helping to create a fun atmosphere is one way to increase membership and for members to enjoy themselves.
"Obviously we have some goals as far as bringing in new membership," Cook said. "But with that we have to add values, we have to add some really good things to make people want to be with us, to help us give - give back to the community."
Cook's sentiments echoed Rotary's theme for this year of 'Be a gift to the world.'
Being a gift to the world is what Rotary guests Alisha Bent and Clarence Turpin do during Rotarct club meetings in their hometown of Jamaica.
Bent and Turpin, who were guests of Rotarian Sue Winchester are from Kingston, Jamaica and have spent the last two summers working at Tusayan's Best Western Squire Inn.
Both attend the University of Technology (UTECH) in Kingston and work the summers in the U.S. through a work - travel visa.
Last year Turpin worked for the food and beverage service at the hotel. This year he is working in the Human Resources department, while Bent re-assumed her duties greeting and checking guests in at the front desk, she also works as a concierge at the hotel.
During the school year Bent and Turpin belong to the Kingston Roteract, which they said has become a big part of their lives.
Rotarct, which is a branch of Rotary and is sponsored by Rotary, is for youth between the ages of 18 to 30. Rotarct clubs are responsible for organizing and planning their own events, projects and fundraisers.
Bent, who is the director of community service for Kingston's Rotarct club said she has been with the club for over three years now. Turpin assists with responsibilities for the club and has also been an active Rotaract member for three years. Both Turpin and Bent said they started in Rotarct to help build their resumes, but over time, the full depth and meaning of Rotarct has led them to become more involved.
"Giving back is one of the best things, the most important things about Roteract," Turpin said. "It's a humbling experience."
Bent said time spent in Rotaract teaches you what it truly means to give and to spend time in service to your community.
"It opens your eyes," she said. "Sometimes we are ungrateful and we forget that people out there are more unfortunate than us and basically it's all about giving - to let them feel appreciated and feel that they know you are around. Sometimes they feel like nobody knows them, nobody remembers them."
Both Turpin and Bent plan to return next summer to Tusayan, with the work - travel visas and will follow through with that experience with a year-long internship in 2017.
Being in Tusayan has been an invaluable experience for their future careers as well as giving them the opportunity to enjoy the beauty and grandeur of the Grand Canyon.
"It's breathtaking, the colors - it just looks like a picture," Turpin said. "We normally take pictures and they (family/friends) always ask if we cut and pasted the background, they say it is not real."