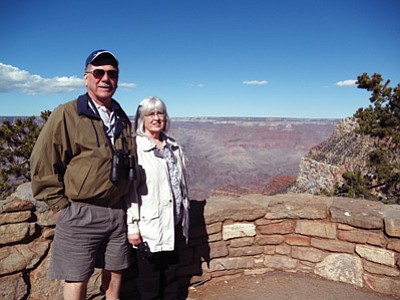 Originally Published: March 31, 2015 8:55 a.m.
GRAND CANYON, Ariz. - The efforts of a mysterious 15-year-old boy helped save the life of a visitor at Grand Canyon National Park.
At around 7:50 p.m. on March 8, Ron and Mary Merle were on a one-night vacation at the Grand Canyon with family and were playing cards when Ron went into cardiac arrest. With the help of emergency response teams and a mysterious young man, Ron survived.
After his release from the hospital Ron wanted to find out who the mysterious young man was that helped save his life and disappeared without a word.
This week efforts were made by the manager of the firefighters serving the concession site to find out who was in the room next to the Merles that night.
Their efforts brought them into contact with the young man's grandfather who had booked the room at the Maswik Lodge.
After speaking to the grandfather, firefighters at the park verified that William Mai was on vacation with his family and was the young man who helped saved Ron's life.
"He (the grandfather) was surprised he didn't get any follow up either and kinda laughed because we were like, 'We didn't know who you were,'" said EMS coordinator at Grand Canyon National Park James Thompson.
The initial report stated Mai, from Victoria, British Columbia, might have been a Boy Scout, but it was found out that Mai had taken a CPR class about a week before the trip to the Canyon.
According to Thompson, administering CPR before the EMS service arrived was vital in saving Ron's life.
"Absolutely, those initial steps are pretty much what people believe and get trained on, early CPR is the ticket to having this happen," Thompson said. "I would certainly stand behind that given the fact that I review all the charts of cardiac arrests we get in the park. That's one of the big points of how people survive. Getting early CPR and AED on scene early is what makes a difference."
At the time of the heart attack, Ron 73, had no pre-existing heart conditions and lived an active lifestyle.
"He's a very healthy 73, very active," Mary Merle said. "We were at the Canyon for one night, with my brother-in-law and sister."
Dick and Leanne Preston were visiting the Merle's from Hamlin, New York. It was the Prestons' first time at the Canyon.
The day the Merles and Prestons visited the Canyon, Ron's wife, Mary, said he was not quite himself.
"He was short of breath and had some chest pain before this happened," she said. "But he hadn't had any difficulties and was in excellent health."
The couples were staying at cabins in Maswik Lodge and after walking along the path by the rim, they had dinner at the lodge and then went to their cabins to relax. "We were in one of the buildings, my husband and I were relaxing and playing cards," she said. "My brother-in-law and sister were next door. My brother-in-law came over to join us and just about that time my husband went into cardiac arrest."
"Ron sort of fell into my arms so I started doing chest compressions on him," Dick said.
Mary immediately called 911 and went with her sister to try and find help.
"I went next door and we saw someone walking by, a young man," she said. "We asked him if he knew CPR and he said, yes, he had it in school. So he went right into our room and helped my brother-in-law."
Dick said they had turned on the emergency flashers on their car so the ambulance would find them and he was giving Ron CPR in the room when the young man showed up.
"It was getting dark," Dick said. "So that way they would know which place to aim for and then of a sudden he walked in and said I'm trained to do this."
Dick allowed the young man to take over. He immediately started performing CPR. By the time first responders arrived Mai was still administering CPR to Ron.
"The charts show that a young Boy Scout (previously thought) happened to be near the room and performed CPR for approximately 10 minutes until first responders arrived," Thompson said. "He was doing CPR, that was the appropriate thing to do, because when he got reassessed by our first responders that person (Ron) was still pulse less and they continued CPR from there on out. He was very focused on doing what he was doing and when the first responders arrived he was very happy to let them take over."
According to Dick, the young man was tall, thin and around high school or early college age.
"It wasn't that kind of moment," Dick said in reference to getting the young man's information. "I know he said once that his mom was a nurse and he was carrying a back pack."
Mary also believed the young man was vacationing with his family.
"I know he was tall, I'm guessing late teens," she said. "That was not my priority at the time. It was just mass confusion. He was there for a little while. I know he was there, but after that he just disappeared."
Thompson said the EMS responders to the scene also had limited interaction with the young man.
"One of the providers on scene said his only interaction with him was asking him to take over and the guy was like, 'yeah, sure," Thompson said. "He said the guy was doing everything he was supposed to, doing everything right and he was very impressed by the guy. But then he just disappeared into the woodwork."
After arriving at the lodge, the EMTs were able to transport Ron to the helipad at Grand Canyon Airport where he was medi-vaced by Guardian Air to Flagstaff Medical Center (FMC). Mary and the Prestons followed by car, not knowing his condition.
"We drove to Flagstaff, not knowing whether he had made it or not," Mary said
By the time they arrived at FMC, Ron had been in surgery and had a stent put in a major artery and was stable. Ron was in ICU for a week and a half before being moved to a hospital room and released two weeks and one day after the initial heart attack.
"He made unbelievable progress, I believe everyone involved was surprised," Mary said. While Ron was still recovering at FMC, Mary met three employees of Guardian Air in the hospital cafeteria. While they were not the crew who had helped save her husband's life, they told Mary they would pass on her gratitude.
"The next day the crew showed up in my husband's room," she said. "So we had an opportunity to thank them and they were surprised to see him so well. It was a big moment for all of us, a very emotional time."
Today, Mary said Ron is doing very well.
One person in particular they would like to thank is the young man who helped Ron before the EMTs arrived, who they believe helped save his life.
"I would appreciate knowing his name if he is willing to give it," Mary said. "We would like to be in touch with him thank him and we really wanted to let him know that Ron survived and is doing well."
Thompson said the Mai family was very excited to hear from the park and said the park would be forwarding their contact information to the Merles.
By press time the paper had not heard if the Merles received the information yet.