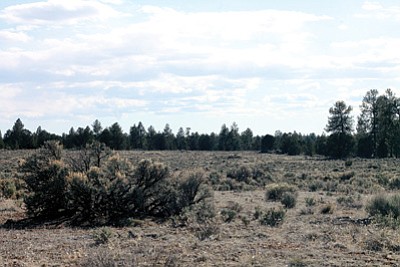 Originally Published: March 31, 2015 9:49 a.m.
TUSAYAN, Ariz. - Tusayan council members are discussing future plans for the town's 20-acre parcel at Kotzin Ranch to try and determine what type of housing will be available and what qualifications applicants will need for the units.
With the U.S. Forest Service moving forward with the town of Tusayan's road easement applications, the possibility of future affordable housing in Tusayan could be a reality.
Town council members and the town manager have been looking into developing plans for the 20 acres at Kotzin and the best way to determine housing applications once the units are built.
One of the options is possibly basing an affordable housing program for the units from plans based on a similar affordable housing program in Telluride and other towns in Colorado.
The affordable housing program in Telluride helps determine who the applicants for housing will be based on qualification, eligibility and priority.
"Something we've been looking at is what other communities have done in similar places, places like Aspen and Vail (Colorado)," said councilman John Rueter. "We had a study done and what those communities have had done in similar - national forest, national park, gateway communities, where land is very scarce."
From the study the town was able to look at what some of the challenges faced by the Colorado communities were and what Tusayan can anticipate if they go with the same sort of housing program.
"At times it's been very challenging for them," Rueter said. "They've had great successes and they've had a few failures."
Rueter said one of the original reasons for the town's incorporation was to provide additional housing in Tusayan and the town now has the capability to pursue that avenue.
"That is meant to be, affordable housing and housing opportunities for the people of Tusayan," he said. "We went down the road of self-determination and for us this will be a major step. How long that will take, we don't know, but we are committed to it and we still, more than ever, see the need to give people some options."
Further study to discuss the housing is planned and could encompass what requirements will determine a place on the list for the housing.
"If there's more applicants than there are spots, you always end up with a list," Rueter said. "My guess is that there will be more applicants than there are spots."
Whether it is a housing list that determines who will reside in the new homes or a different method, Rueter said the goal is to make sure it is affordable.
"It's absolutely not only residential but it's affordable," he said. "There's all different levels of income here and it's a complex situation."
Before a decision is made on what method the town will use in determining housing eligibility, there will be a period of public review and comments as well as legal review.
Council members have said they hope the town will begin to look into what method will be used in determining eligibility, so the town will be prepared when or if the development gets underway.
"We need to already have that resolved and I'd rather give people a dream sooner than later," Rueter said.
Councilman Al Montoya said at the March 4 council meeting the Telluride affordable housing guidelines were a good starting point and said the town of Tusayan could tweak the plan to custom fit Tusayan.
Additionally, he said he would like local resident input from Telluride to see how it has worked for them.
Council members suggested posting the document on the town's website to get public feedback.
Tusayan's town council had a site planner developing several options to divide the land to determine the best layout for future condominiums, manufactured homes and town houses.
"We are contracting with a landscape architect who is going to bring concepts and show us, 'If you went with this size lot or you had this mixture, here's what you could put in that space,'" Rueter said he hopes to see plans within the next 30 days.
"I've heard no other ideas besides residential housing, some of it would be manufactured housing or modular homes," Rueter said. "Then there would be some town houses, apartment and condominiums."
More like this story