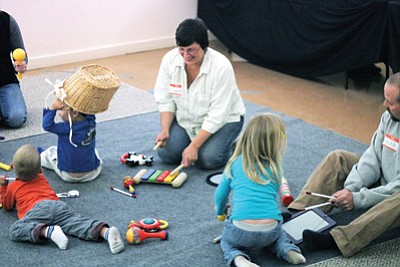 Originally Published: May 5, 2015 10:52 a.m.
GRAND CANYON, Ariz. - "In Music Together, we are the music makers," said Suzanne Avantyr program director for Music Together at the Grand Canyon.
Music Together is an eight week program, focusing on musical involvement and interactive experiences for children and their caretakers.
Through hands-on musical interactions, Music Together hopes to help foster untapped tone, rhythm and styles of music and dance that children naturally possess.
"In Music Together, we believe all people are born with an innate sense of music and that all people are musical," Avantyr said. "We give children and their families the foundation for having fun with music."
By giving children a safe and relaxing area Music Together teaches children to mimic the teachers, adults and peers. They learn new collections of songs, movements, tone and rhythms during the first part of the semester and later repeat these songs in order to help children recognize familiar tones and rhythms.
"The basic idea is that I model to the parent and the parents model to their children and the older children model to the younger children," Avanytr said. "So there's this great little hierarchy thing that happens."
The children are always accompanied by a parent, family member or caretaker, who are required to participate with the children.
But there is no expectations or pressure for the children or adults.
Avantyr said the environment she wants to create is one of relaxation and fun.
"Just experimenting and exploring - that's pretty much what we do," she said. "The experimenting is used throughout class and there are never any wrong answers or wrong way to sing or play with an instrument - it's all discovery."
This is Avantyr's third year teaching Music Together at the Canyon. Her first experience with the family music program was during a yoga class at the Canyon and in 2011 she started teaching the program after Music Together teacher, SuZan Pearce decided to hand over the program to Avantyr.
While Music Together had already been offered for many years at the Canyon, it was not until Avantyr moved to the Canyon that she first heard about the program.
"I had never even heard of Music Together until I got here and where I lived was right next to Princeton University and is where Music Together has been for about 35 years," she said. "I had to move to Arizona to find out about it."
In order to teach the program Avantyr spent time in New York, where she is originally from, to learn the curriculum.
"(Music Together) was put together over 35 years (ago) and (is) a very deeply researched based program," Avantyr said."They tell me, 'This is what your lesson plan looks like,' and they give it to me in such an easy format and formula, that I can't get it wrong."
Avantyr teaches a mixed age class to children from birth to five years old.
Occasionally she will go a little over the age limit but only if the family has several children enrolled or if it is a sibling of an enrolled child or if the child is right around the age group.
Avantyr offers the program three times a year, in the fall, winter and spring, and teaches each semester from the musical collection that Music Together is offered during that time. There are nine collections of music altogether, which are used to highlight original and traditional arrangements. This semester the curriculum is focusing on the Triangle Collection.
"(This) gives them the ability to develop their tonal and rhythm competency. We do things like tonal patterns and rhythm patterns," Avantyr said. "We do play music too and as far as instruments, we get to play with two different instruments a class and there's always that free instrument play, which is a whole bunch of different instruments that I set out."
Those enrolled in the class also receive a music book, a CD, activity ideas to use at home and access to the Music Together database for song collections featured during that semester.
Kate Maragos, first became involved with Music Together when she took her daughter, who is now eight, as a small child. She now brings her son Alex Maragos and foster child Daniel Williams.
"They just love being able to play with the instruments," Maragos said. "(We) like to take advantage of what we feel like is fun and they love to dance and to play. It's great to have a place for them to have a setting where it's okay for them to run around - it's okay to make noise and dance."
Registration for the program is $125, early registration is $110 and late registration is $140. There is an initial registration fee of $15 or $5 for returning families. A sibling fee is half price at $55 and infants six months and younger are free if they attend with a registered sibling.
The 45 minute class meets once a week for eight weeks every Wednesday night from 5:30 to 6:15 p.m. in the Grand Canyon Recreation Center's Piano Room.
Music Together is an international program based in New York and is offered in over 40 countries. More information about Music Together can be found at its website at www.musictogether.com or from Suzanne Avantyr at SuzanneAvantyr@gmail.com or (928) 890-9734.
More like this story