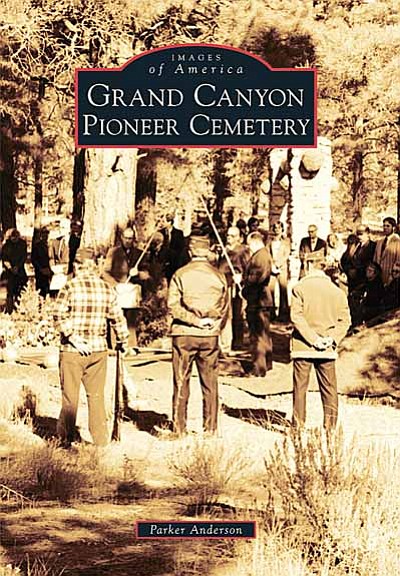 Originally Published: May 5, 2015 10:44 a.m.
GRAND CANYON, Ariz. - Several hundred feet away from the Shrine of the Ages auditorium on the South Rim of the Grand Canyon lies the final resting place of more than 400 souls.
Grand Canyon National Park's Pioneer Cemetery is a relatively unknown area of the park, one that many people will not visit during a trip to the Grand Canyon.
Parker Anderson is hoping to change that with the release of his latest book, "The Pioneer Cemetery."
Published by Arcadia Publishing, who specializes in pictorial historical books, "The Pioneer Cemetery" was released early last month.
Who better to research and write a book on this little known cemetery than Parker Anderson, who is not only a taphophile but also a native Arizonan who has spent many years exploring the Grand Canyon.
A taphophile is an individual who has a passion and enjoyment for cemeteries, especially old cemeteries and he has proven this by releasing "The Pioneer Cemetery," which is his second book about Arizona cemeteries.
When asked why another book on the Grand Canyon, Anderson explained that "The Pioneer Cemetery" is a special kind of book about the Canyon - it is a one of a kind publication.
"I decided to write about it because hundreds of books have been written about the Grand Canyon and its many wonderful aspects but I was surprised to find that nobody had ever written anything about the cemetery or burials in the Canyon," Anderson said.
The little cemetery, located near the heart of the South Rim, is frequently forgotten about by visitors, in order to find the cemetery, one either stumbles upon it or must intentionally look for it.
"I happened to stumble upon it," Anderson said. "I heard about it somewhere, and it's funny, because I can't remember where anymore, I think I heard it in passing and that peaked my interest and I looked into it."
As a historian, Anderson was fascinated to find the cemetery and find out more about those buried there. According to Anderson, when you do find it, you realize how much history and significance is buried beneath the tombstones.
"I was further interested, being that I love history, to find that so many of the Grand Canyon pioneers are buried there as well as people from all walks of life, from all eras of the park who worked there," he said. "The cemetery is a reflection of the Canyon's history all by itself. It's a very beautiful final resting place."
Anderson is able to capture fascinating facts that highlight not only the history of those buried at the cemetery but also the remarkable story of the cemetery itself.
"Considering it's a small cemetery and one of the very few that's inside a national park, that alone is significant," Anderson said. "I was amazed at how broad the spectrum is of the people who are buried there. In addition to the pioneers like the Kolb brothers there are also park superintendents, rangers, Harvey girls, other workers and even a couple of murder victims."
Since the first burial at the Canyon in 1919, many people who devoted their lives to the Canyon and the National Park System have found a final resting place at the cemetery.
"Generations of them," Anderson said. "I find that significant and I hope people take away a new appreciation for that."
Nowadays the cemetery averages around four burials per year and because of increasing interest in being buried at the cemetery, there are specific criteria for burial.
"In order to be buried there, you have to have lived at the Canyon for a minimum of three years," Anderson said. "Of course to live at the Canyon you have to work there. The only exception to this requirement is if an individual has made a significant contribution to the Canyon or if you are a family member of someone who has been buried at the cemetery."
While we may not all end up being buried at the Pioneer Cemetery, it is open to visitors, year-round and provides an insight into a part of Canyon history that many may not be aware existed.
"(When) I visited it, I was very, very deeply moved," Anderson said. "It was certainly one of the most beautiful cemeteries I think I had ever visited in my life. I am really hoping (readers) take away from the book, a new appreciation for the people who worked at the Canyon and who made the Grand Canyon National Park what it is."
Anderson has authored several books for Arcadia Publishing including "Cemeteries of Yavapai County" and has co-authored "The Elk's Opera House." He is a native Arizonan, born in Wickenburg, Arizona and makes his home in Prescott, Arizona.
"The Pioneer Cemetery" is available online through amazon.com or by special order through bookstores.
More like this story