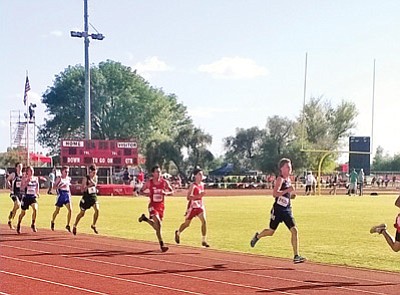 Originally Published: May 12, 2015 11:24 a.m.
GRAND CANYON, Ariz. - Grand Canyon School senior Julian Cly ran the 1600 meter race in four minutes and 52 seconds during the Arizona State track meet at Mesa Community College May 9. Cly also ran the 800 meter in two minutes and 13 seconds. Cly's personal record for the 1600 meter is four minutes and 50 seconds and two minute and nine seconds for the 800 meter.
Grand Canyon School senior Tyler Jones receives a first place medal in Division IV at the meet for his six foot, two inch high jump. Jones' personal record is a high jump of six feet, six inches.
Grand Canyon School will have a sport's awards ceremony at the Grand Canyon Recreation Center at 6 p.m. on May 12.