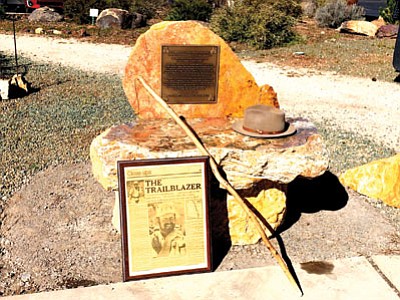 Originally Published: November 3, 2015 12:43 p.m.
GRAND CANYON, Ariz. - A memorial bench was donated by Laurie Martin sister of Arizona Trail founder, Dale Shewalter, to the town of Tusayan Nov. 1.
Greg Bryan, mayor of Tusayan, recently proclaimed Nov. 1 as Arizona Trail Founder, Dale Shewalter Recognition Day.
The memorial bench is made of Mayer Onyx and was donated by Shewalter's sister and placed in front of the IMAX theater. Darold Honwisiwma gave a traditional Hopi blessing at the ceremony. The Arizona Trail Association expressed appreciation to the town of Tusayan and the Grand Canyon National Geographic Visitors Center during the dedication. A special showing of the film, "Unbranded," which featured portions of the Arizona Trail, including part of the trail going through the Grand Canyon, was shown at the IMAX theater Oct. 30. The showing was free, with donations being accepted in support of the Arizona Trail Association.
More like this story