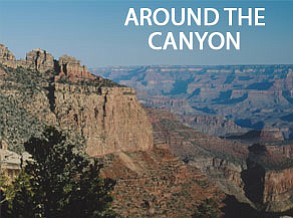 Originally Published: November 3, 2015 12:26 p.m.
Odyssey of the Mind fundraiser
The Grand Canyon School Odyssey of the Mind teams are currently selling holiday wreaths and greenery. Also available are gift wreaths that can be sent anywhere in the country. Prices start at $20. The wreaths are expected to be delivered in early December. Purchases support Odyssey of the Mind, an international educational program that provides creative problem-solving opportunities for students from kindergarten through high school. Those interested in holiday greenery, should contact any Odyssey student, or Odyssey coordinator Sara Newton at snewton@grandcanyonschool.org or (618)334-6684 by Nov. 10.
Western Dance Nov. 7
Kaibab Learning Center is hosting its annual Western Dance fundraiser, raffle and dance Nov. 7 from 6 to 9 p.m. at The Grand hotel in Tusayan. All proceeds benefit the learning center. Tickets are $25 per adult and $10 for children. More information is available from Kaibab Learning Center Director Michelle Pahl at (928) 638-6333.
Sock drive
John Ivans Squadron and Unit 42 are holding a sock drive for active duty servicemen and women to help fill servicemen's boxes for Christmas. The post and unit invite the public to bring a new pair of socks that would be universal for either men or women to the American Legion office, 117 W. Route 66 Suite 200. The socks will be given to ESA to be sent to active duty service members at Christmas.
Fall Bazaar Nov. 7
There will be a fall bazaar from 9 a.m. to 4 p.m. at the Grand Canyon Recreation
Center Nov. 7. More information is available from Sandi Ferrante at (928) 856-9668.
Acro Yoga
Acro Yoga is an informal class combining yoga and acrobatics to create an uplifting experience. Classes are offered Mondays at 9 a.m. and Wednesdays at 7p.m. at the Grand Canyon Recreation Center.
Children's Church
Grand Canyon Community Church is launching a children's church that takes place Sundays from 11 a.m. to noon for children from three years old to sixth grade. The church meets at the Shrine of the Ages auditorium in Grand Canyon National Park.
Flu shots available
The clinic is currently offering seasonal flu shots at the clinic for individuals and is available to hold a flu shot clinic at any local business. More information is available from Kelly Bradish at (928) 522-9600.
Rec. Center Smash Nights
Grand Canyon Recreation Center is offering Smash Nights on Wednesdays from 7 to 9 p.m. in the Multi-Purpose Room. All skill levels are welcome, casual and competitive game play offering monthly tournaments and prizes.
Tusayan Fire seeking volunteers
Tusayan Fire Department is looking for volunteers to join its department. Those interested in being part of the tradition and the excitement of firefighting while serving in the community are encouraged to become a volunteer. More information is available from Tusayan Fire Department at (928) 638-3473 or by stopping by the department Tuesday through Friday between 8 a.m. to 5 p.m.
Grand Canyon Yoga
An all level yoga class, taught by Jennifer Allen, meets from 5:45 to 7 p.m. on Wednesday nights at the Grand Canyon Recreation Center, 2 Mohave Street Grand Canyon.
Yongshidao Self Defense Class
Learn how to defend yourself with Mater Michael Martinez at his Yongshidao self defense class. The class is free and meets twice a week, Sundays and Tuesdays from 7:30 p.m. to 9 p.m. at the Grand Canyon Recreation Center, 2 Mohave Street Grand Canyon.
Grand Canyon Lions Club District D21
The Lions club meet the first and third Wednesdays of each month at 7:30 p.m. at the Canyon Plaza Resort, located behind the IMAX® Theater on Highway 64. Anyone in the community is invited to attend.
Grand Canyon AA meetings
Grand Canyon chapter of Alcoholics Anonymous meet three times weekly at the South Rim on Mondays. Wednesdays and Fridays in the Kachina Room of Kachina Lodge. Meetings for the group begin at 7 p.m.
Zumba with Haley
Zumba with Haley is a free dance class. Zumba meets at the Grand Canyon Recreation Center every Monday from 7 p.m. from 9 p.m. Zumba is a Latin inspired dance fitness program. Participants should bring exercise clothes and water.
Violin and piano lessons
Rachel Dryer is offering violin lessons to anyone interested in learning to play. Lessons are $15 for half hour lessons. She has played the violin for 15 years and teaches the Suzuki method. Rachel also offers piano lessons for those interested. More information is available from Rachel at 928-310-4327 or krachelsmith@gmail.com.
More like this story