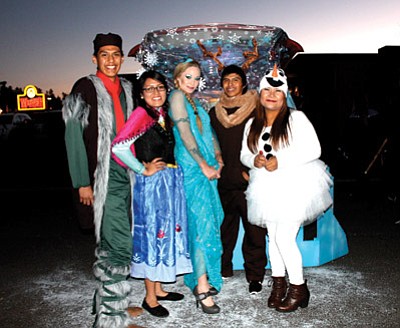 Originally Published: November 3, 2015 10:39 a.m.
TUSAYAN, Ariz. - Ghosts, fairies, clowns, skeletons, Minnie Mouse, jelly fish and the entire cast of "Frozen" showed up at the annual Trunk or Treat in Tusayan Oct. 30.
The Grand Canyon Chamber of Commerce and Visitor's Bureau hosted the Halloween event, which included a haunted house, a pumpkin carving contest and a prize for best trunk.
Holiday Inn employees, wearing their "Frozen" costumes, walked away with the $100 prize for best trunk. A $20 prize was awarded in each category of the pumkin carving contest.
Around a dozen local businesses participated in the event. After visiting the Trunk or Treat event, most attendees went to other local businesses and residential areas to continue trick or treating.