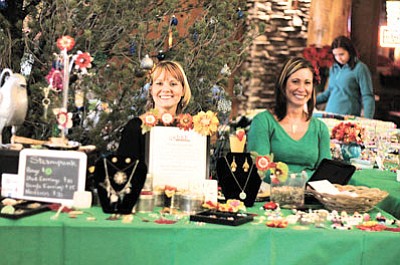 Originally Published: November 10, 2015 6:01 a.m.
GRAND CANYON, Ariz. - The Grand Canyon Community Church will hold its annual Christmas Craft Bazaar Dec. 5 from 8 a.m. to 2 p.m. at the Grand Hotel in Tusayan.
The historic bazaar has taken place for over 60 years and attracts vendors from across the state.
Vendor's booths are available for $25. Over the years, booths have included everything from local photography to puzzles, jewelry and other crafty gifts.
"The talent is over-the-top," said Patrick Dotson, reverend of the Grand Canyon Community Church and coordinator for the event. "We expect the vendors to be just as impressive as in the past."
In addition to craft booths, this year Plaza Bonita restaurant will donate breakfast burritos for sale along with home-baked goods to benefit the Grand Canyon Community Church.
More information or to purchase a booth is available from Ronnie Tierney at (707) 738-6369, napaphotographer@gmail.com or Patrick Dotson at (928) 638-2340, gccommunitychurch@gmail.com.
More like this story