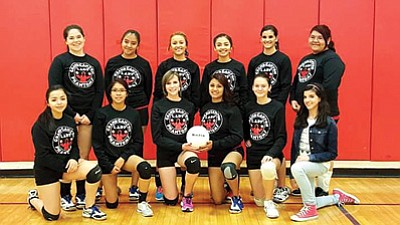 Originally Published: November 10, 2015 6:01 a.m.
GRAND CANYON, Ariz. - On Oct. 29, the Lady Phantoms volleyball team played their final game against the Chino Valley Cougars. The varsity team walked away losing three out of three sets 12-25, 12-25 and 11-25.
The team ended the season winning two out of 15 games, in addition to several tournaments that were played throughout the season. Barb Shields, head coach for the Lady Phantoms, said it was a tough season for the team, primarily because they played much larger schools and went up against some teams they had never played.
"I think the smallest school we played had 400 kids in it," she said. "It was a little bit of a challenge, but I will say that the girls really stepped up."
Some of the more challenging teams the Lady Phantoms played included Chinle and Many Farms, both longtime rivals of the Phantoms.
"They had some fabulous games against Many Farms and Chinle," Shields said. "They were taking those (games) to three games in junior varsity and five games in varsity."
This was the first time the team had played several of the teams in its bracket, including Basis and Kingman teams.
"We've seen those other teams at tournaments and such, but to actually played in our region - we've never played them before," Shields said. "I think one of our hardest game we played was against Joy-Christian, we've never played them. They were a very strong team...very tall and strong at the net. That created quite a challenge."
The two wins this season, by the Lady Phantoms were games against Basis and Camp Verde.
"They had some phenomenal playing but they had some tough games," Shields said. "But they really stepped up and I was proud of them for that."
Looking forward, Shields said she has seen aspiring leaders and strong players. She hopes she will see these players next season.
"I feel pretty comfortable with the underclassmen coming up. We have some others that will be coming up from middle school that I think will bring promise as well," Shields said. "It will be a young team next year."
One of the strengths this season was the number of seniors making up the greater number of players on the team.
"We had six seniors this year," Shields said.
Because of being senior heavy, the team had many leaders. According to Shields, senior Deya Ramos stepped up as a leader and proved to be a skilled setter for the team.
"She was a stronghold for setting, particularly for our varsity team," Shields said. "You might have lots of hits and attacks but you don't have any of that if you don't have a good setter."
Strong mid players included senior Yesenia Jimenez and sophomore Savannah Perkins. Strong players in the outside positions included Yubiana Jaime and Jessica Ross-Mentor. Shields also said freshman Natalie Ramos, who plays outside position, is a player to keep an eye out for.
"I think lots of them were leaders in the team but at different times," Shields said.
Despite having six seniors graduating this year, Shields remains confident in next year's team and said even though it will be a young team, there are many strong players that she hopes will lead the way. Part of the preparation for next year's season will be to build from what the team learned this year.
Over the season, the team has practiced a variety of drills and focused on specific components of the game.
"The one thing we worked really hard on this year was our tip coverage and hitting coverage," Shield said. "They did much better once they started incorporating some of those skills. That cleaned up quite nicely. Overall it was a really good season. I think the girls got to see a higher level of ball played that they've not usually played."
Shields, who coached by herself this year, did have a team manager, Emma Perkins, who helped keep books for the team. An end of season sports banquet for Grand Canyon's volleyball and soccer teams takes place Nov. 20.
More like this story