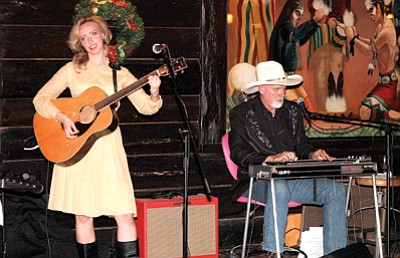 Originally Published: November 17, 2015 10:33 a.m.
GRAND CANYON, Ariz. - "A Night in Asia" is the theme of the 2015 Dinner-Dance put on each year by Grand Canyon's Rotary on the Rim.
The Dinner-Dance is one of Rotary's biggest fundraisers of the year, with proceeds going toward scholarships for local youths, community grants and projects in Arizona like the Yarnell water project, as well as other projects in Mexico and around world.
Recipients of past community grants include the Tusayan Fire Department, Kaibab Learning Center, Grand Canyon School and educational programs like School of Rock and Odyssey of the Mind.
"We use the money for our local scholarships for our high school kids and many other groups," said Yvonne Trujillo, president elect for Grand Canyon Rotary.
This year's Dinner-Dance will take place Dec. 12 at the El Tovar Hotel and Restaurant on the South Rim of the Grand Canyon. Doors open at 6 p.m., with festivities lasting until around 11 p.m.
Local band Exit 64 will provide music for dancing and entertainment.
Trujillo said this year's theme "A Night in Asia," was chosen because of the Rotary International Convention decision to hold it's meeting in Seoul, South Korea this year.
"Not a lot of people are familiar with South Korean cuisine," Trujillo said. "So (the club) selected Asia as a whole to be represented."
Matt McTigue, executive chef at El Tovar is planning the dinner menu to reflect the theme.
Additionally, fundraising throughout the evening will include a silent auction, 52-card raffle and a raffle prize event. Some items included in this year's silent auction include a Grand Canyon river raft trip for two donated by Grand Canyon Expeditions, several exclusive travel packages and top of the line art and electronics. In the prize raffle, items include an iPad Mini Bundle, HP 10.1 Tablet, GoPro Hero Starter Bundle, Fitbit Charge HR and Bose Soundlink Bluetooth Speaker among other items. For the 52-card raffle, an iPad Air 2 will be raffled off along with an additional high-end electronic item that has yet to be revealed. Raffle tickets cost $5 for one, $13 for three, $20 for five, $35 for 10 and $60 for 20. All raffle prizes are valued at $100 or more in value.
In addition to the fundraisers, other highlights of the evening include the opportunity for professional photography and the announcement of this year's Community Leader of the Year.
"(Community Leader of the Year) is somebody that has helped our communities recently or for the last 20 years they have been here," Trujillo said. "Someone who has made a difference in the lives of the people who live here."
Trujillo said Rotary is still taking nominations for Community Leader of the Year and suggestions can be made to Rotary members.
Xanterra is offering specially discounted rooms at the El Tovar and Kachina Lodge for those attending the event. Red Feather Lodge in Tusayan is also offering special rates for the night of the event. More information about reservations at El Tovar is available from Ellen Miller at (928) 638-2525 and for Red Feather from Trish Samples at (928) 638-7007.
Tickets for the dinner/dance cost $50 per person and can be purchased from Rotary members. Trujillo and other Rotary members will be selling tickets at the Grand Canyon General Store.
"I will be there from 11 a.m. to 2 p.m. during the week and then we will have some of the evenings covered, from 4 or 5 p.m. to close," Trujillo said. "Or they can contact me directly at work or through email (for tickets).
More information is available from Yvonne Trujillo at (928) 606-2274 or vonnee.gcrotary@gmail.com.
More like this story