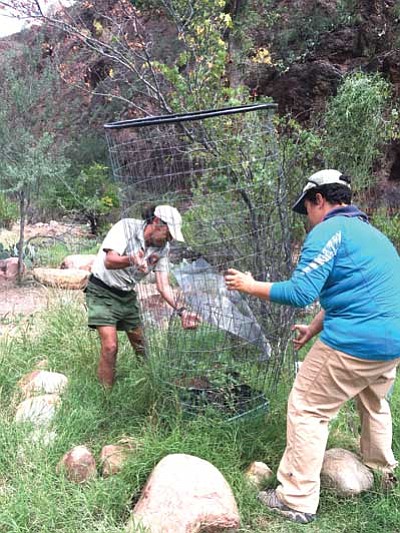 Originally Published: November 17, 2015 10 a.m.
GRAND CANYON, Ariz. - To be legendary is to be remarkable enough to be famous or very well known. Grand Canyon has a habit of turning people into legends - like Sjors Horstman.
Originally from an emigrant family from the Netherlands, Sjors has spent the last 27 years at the bottom of the Grand Canyon, volunteering at Phantom Ranch.
The name Sjors derives from the Netherlands. Horstman is his last name, although he prefers to just go by Sjors.
"Sjors is a Dutch name," he said. "I don't tell people too often (my last name). It's spelled with one n, two n's make it German."
Sjors' family emigrated from the Netherlands to the U.S. when Sjors was four. He grew up in California with a family that loved to camp. They appreciated the opportunities the national parks offered and from an early age Sjors learned to enjoy the outdoors.
"We came to the United States and got an eight cylinder car and camped every weekend for the first 10 years we were in the United States," he said. "Every summer we would go and hit the national parks in the western United States and Canada."
Sjors has been to many of the major national parks and after he grew up, he continued to travel. In 1981 he drove 25,000 miles around North America visiting national parks along the way.
For a living, Sjors worked as a TV technician at a small company in L.A. His job took him from house to house making repairs to TV sets. As time passed, Sjors began to yearn for something different.
"I felt like I was on an assembly line," he said. "I would fix five to eight TV's a day. So that's when I started doing more traveling on my own, going overseas."
Sjors visited Europe and Africa before booking a one-year trip around the Pacific. His ticket on Singapore Airlines and New Zealand Airlines cost $1,700.
"It was cheaper to travel than to live in the United States," he said. "So that's what I did."
Little did he realize he was about to embark on a journey that would forever alter his life.
After visiting Asia, Australia, New Zealand and spending six weeks hiking in Nepal, Sjors landed in Hawaii.
"That is where the big thing happened in my life," Sjors said. "I saw a volcano erupt on a backpacking trip. That was the encore of the whole trip and the realization came to me ... there is no way I can go back to L.A. and start fixing people's TV's so they can watch soap operas."
With that realization, Sjors returned to L.A. where he picked up his car and took off on a six-month trip to Alaska. He returned to L.A. after the trip to work as a driver, delivering airplane parts. In his spare time he would head to the beach to watch for whales - something he had done since he was a teenager.
He began volunteering to watch and collect data on whales - getting his first taste of volunteer work.
He lived in his truck, spending most nights above the beaches and homes in Palo Verde, California.
"I had a big view and all these rich homes behind me," he said. "They would call the cops, but eventually the cops got to know me...'that's the guy that's always watching whales,' they'd say."
One day as he was scanning the horizon for whales, Sjors overheard two strangers saying Grand Canyon National Park needed volunteers to collect data for a project on the Colorado River. He was interested.
As a child, Sjors family had taken him to the South Rim for his first glimpse of the Canyon.
"I remember looking down and I could see the buildings (Phantom Ranch) and I thought, 'only an idiot would hike down there,'" Sjors said.
Sjors would spend almost half of his life at the bottom.
His first hike into the Canyon was in the mid 1970s as a young adult. Ever since that trip, he had been fascinated by the idea of taking a river trip on the Colorado. He was excited to discover the volunteers needed for the volunteer project - collecting data on the effects Glen Canyon Dam was having on the river (Glen Canyon Environmental Studies, 1986), would be a part of a boat trip on the Colorado.
"To me it was just a scam to get into the Canyon," Sjors said.
The scam worked. With prior experience collecting data on whales, Sjors was in. He would spend the next several weeks on the Colorado. Following his initial volunteer trip, he landed a spot as a seasonal volunteer campground host on the North Rim.
When he wasn't at the North Rim campground, Sjors was hiking the corridor trails. He became a regular around Phantom Ranch.
When famed artist and NPS employee Bruce Akin and his wife, Mary, inquired at Phantom Ranch for a baby sitter, the ranger's suggested Sjors. The Akin lived at Roaring Springs, five and a half miles below the North Rim. Bruce oversaw the public water supply for the park. The Akin children were home schooled and the parents wanted to go on an anniversary trip and hired Sjors to watch their children.
"I went down there and babysat them for a few weeks," Sjors said. "Three kids - 10, 12 and 16 years old."
It was 1988 when Sjors started volunteering at Phantom Ranch. Besides having a few additional buildings and trees, Sjors said Phantom Ranch and Bright Angel Campground have not changed a whole lot in the last 27 years.
"I don't think there's been a whole lot of changes," he said. "That is what's kind of nice about it, it doesn't change."
Today operations and life at Phantom Ranch would not be the same without the time and devotion Sjors has given in his almost three decades there.
As a volunteer, Sjors supports the Phantom Ranch rangers in medical assistance, preventative search and rescues, maintenance, campground host and checking for backcountry permits and gardening.
Over the years Sjors slowly adopted the responsibilities of caring for and tending all vegetation and trees at the campground and along Bright Angel Creek. He developed, installed, and maintained an irrigation system for the trees along with planting and nurturing the majority of the trees at the campground and along the creek. The trees planted in the Canyon help provide shade, privacy and a sanctuary from the Canyon's harsher environments.
"Even though my intentions at the beginning was to be at Phantom, I had no idea I would be working with plants and working with the staff and helping people out," Sjors said. "It's fun because sometimes I run into people in other places and they'll say, 'hey you rescued me in the Canyon.'"
Today, Sjors volunteers from March through November, spending 18 days at Phantom Ranch and 10 days on the rim. In November, he spends several months at the ranch - tracking condors and tending to his duties.
He receives a stipend of $15 a day. He learned a long time ago how to make his money go a long way - he still lives off savings from when he was a TV repairman in L.A. .
"You have to sacrifice a lot of things, like girlfriends, going to the movies, going to restaurants - all those things I had to take out," he said. "Basically I'm not spending much. I don't own a house, no bills."
Despite giving up some worldly comforts, Sjors said he wouldn't change any part of the time he has spent in the Canyon.
"It's been nice working with all these different people," he said. "I think one of the big things for me is this family thing with the ranch staff. I'm very close to the ranch staff and rangers. They take care of me."
Working together for many years and living in such unique living arrangements, has given them a common bond. Sjors considers the ranch employees and rangers family.
In 2013 Grand Canyon National Park Superintendent, Dave Uberuaga, visited the ranch to surprise Sjors and express his appreciation for the (at that time) 55,226 hours of volunteer service.
"I believe Sjors could be the first NPS volunteer to record 50,000 hours," Uberuaga wrote in the River Ranger Station's logbook.
Sjors turns 60 in December. He says the last 27 years have been an adventure. One of the best parts has been to watch families return, year after year.
"Being down here I lose track of time," he said. "It seems like the only thing I have (to mark) time are big events, like big flash floods...and watching people grow up. I see families with their kids and now I see their kids coming down here. Every day when I go through the campground, somebody knows me. So you have a lot of friendships."
When Sjors is not in the Canyon, he can be found visiting Phantom Ranch employees on the rim, camping in the forest or visiting his mother in Cottonwood.
More information about volunteering with the National Park Service and other government agencies is available at volunteer.gov.
More like this story