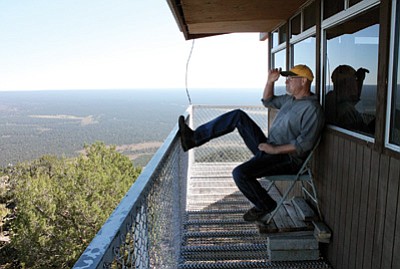 Originally Published: October 14, 2015 11:07 a.m.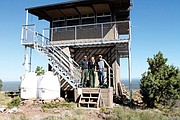 GRAND CANYON, Ariz. - It's been said Bruce Hill can spot a lit cigarette 30 miles out in the woods. He's good.
Which is one reason Hill has worked as a fire lookout on Red Butte for the last 16 years. Red Butte is a lonely outcropping located off Highway 64, just south of Grand Canyon National Park.
For Hill the best part of being a lookout is the solitude and the views.
"People leave me alone," Hill said. "Almost everybody who comes up thinks, 'oh, yeah wouldn't this be great.' It isn't for everybody (although) it definitely is for me."
Bob Blasi, fire prevention specialist on the Tusayan Ranger District of the Kaibab National Forest, said Hill's skills as a lookout play a vital role in keeping Tusayan and the Kaibab National Forest safe from fire.
"He is probably the key, the integral part of the success of the fire organization, especially when it comes to chasing fire down and locating it," Blasi said. "He has an ability to spot and guide people, on the ground, straight to (the fire)."
In 2014, the Tusayan Ranger District achieved a longtime goal of zero human-caused wildfires. According to forest wildfire records, the last time the district had zero human caused fires was in 1965 - 50 years ago.
Part of the district's success has been through spotting efforts by Hill.
"(Hill) is the ultimate, world-renowned lookout," Blasi said. "No one could have anyone more safe, above you or looking down on you."
When Hill first started at Red Butte he averaged around 60 fires per year. Over the last few years that average has gone down to around 30 to 40 fires per year. He attributes the decline of fires to good forest management and adequate treatment and an increased public awareness of fire danger.
"Many times fires that do get started just go out in place because they don't have fuels or other things to carry them to become out of control," said Jacqueline C. Banks, public affairs officer for Kaibab National Forest. "All of the treatment work, the education, the fire prevention efforts have all sort of combined...right now we are in a good position on the Tusayan District."
Hill has accumulated over 40 years of seasonal work with the National Park Service (NPS) and Forest Service. He started out working wth trail and fire crews with NPS and later with the Forest Service.
He landed his first fire lookout job by mistake - a mistake that would shape the rest of his career.
"I was applying for a job at the Grand Canyon and I copied the numbers wrong in the little boxes and somehow applied for a fire lookout at Lava Beds National Monument in northern California," Hill said.
In 2000, he was hired as the seasonal lookout at Red Butte. When he took up residence he was told to watch out for the rattlesnakes and kill any he saw. Hill decided to keep the snakes around, since he was, after-all, going to be living in their territory.
"That's worked out really well, I have a really good relationship with my rattlesnakes up here," he said.
Hill also keeps tabs on a pair of nesting eagles, who have been on Red Butte for as long as the lookout tower has.
"There is also prairie dogs...lots of prairie dogs," Hill said.
For those visiting Red Butte and the lookout, there is only one way - taking a three-mile hike to the top. Lucky for Hill, the Forest Service uses a dirt road to drive halfway up the butte.
While Hill enjoys his life as a lookout, his real passion in life and one reason he has never sought full time employment, is because of his lifelong love of landscape painting.
Landscapes have always been an important part of Hill's life. He grew up on a farm in the mid-west and according to Hill's website, he spent 'countless hours outside with only the task at hand, the dynamic sky, and the gentle roll of the land to occupy his mind.'
When he arrived at the Grand Canyon, Hill said his mind was more than occupied, it was overwhelmed.
His ability to capture the landscapes of the Four Corners area and the Grand Canyon have given Hill a name in the art community. His paintings have been displayed in galleries around the southwest.
Seasonal work has allowed Hill the time he needs to paint. During his downtime in the winter and through his many seasons at the lookout, Hill paints.
"My winter time is my painting (time) and the good thing about the lookout is that I could never buy studio space like this," he said.
Visitors to the lookout usually walk away with more than they bargained for - a quick, thorough education on fire lookout life and a painting tucked under one arm.
"I've thinned out the paintings up here," Hill said. "Everything I've painted in the lookout has been sold. The last couple went to elk hunters who were up here."
Red Butte lookout is staffed from the first part of May to the beginning of October. When Hill is not watching for fires at the lookout, he and his wife, Catherine live on an old farmstead near Dove Creek, Colorado.
A historical legacy
In 1910 devastating fires swept through the forest of the northwest and Congress authorized more funding to fight forest fires. Over the next 50 years, the forest service increased the number of fire lookouts and seasonal wages were offered to fire lookouts.
The Civilian Conservation Corps built most of the fire lookout towers in the 1930s. According to the Forest Fire Lookout Association, at one time there were 8,000 fire lookouts across the country. Today there are about 2,000, with only about 500 staffed by paid observers or volunteers.
Red Butte lookout was built in 1980. After the 1980s almost no structures were built for the exclusive purpose of forest lookouts..
Coconino and Kaibab National Forests have 31 active and inactive fire towers. The Kaibab has eight active fire lookout towers. They are located on Red Butte, Jacob Lake, Dry Park, Big Springs, Grandview, Kendrick, Volunteer, and Bill Williams. Bill Williams is the smallest, while Kendrick is the largest with a 14-by-14-foot cab and a catwalk.