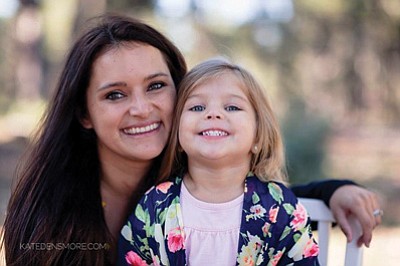 Originally Published: October 20, 2015 9:35 a.m.
GRAND CANYON, Ariz. - Michelle Pahl, the new director at Kaibab Learning Center (KLC) at Grand Canyon, was a stay at home mom with three kids before she took on the job of director at the center.
Pahl has a master in elementary education and originally applied to teach kindergarten at Grand Canyon School, but decided to accept the position at KLC after her application was accepted in July. Pahl said the position was exactly what she was looking for and as an extra bonus two of her three children attend KLC.
"Actually this is perfect because now I have my son and my daughter here, I am super happy," she said. "At the end of the day all three of my kids are here. It's the best. They love it, I love it and my husband loves it."
Pahl and her husband, a firefighter with the U.S. Forest Service, have been in the Tusayan and Grand
Canyon communities for almost two years. Before being transferred to Tusayan ,
the Pahl's lived in California and Phoenix. It was in the last year Pahl decided she was ready to go back into workforce.
"I was ready to go back to work and with my oldest son starting kindergarten I just felt like it was the right time," she said.
Pahl has been a stay at home mom for the last six years and has run her own preschool. Raising three children has kept Pahl busy and has helped her get back into the swing of working outside of the home.
"So far it's been amazing, the staff is amazing, my kids love it, and I love it. I wish I had done it earlier," she said.
Pahl stepped into the position in July, after applying and interviewing with the center.
Currently KLC has around 40 students enrolled, not including the students attending the after school program. KLC offers care to children from infants to 12 years old, however, older students only attend the after school program and participate in summer school.
Depending on their ages, younger children are separated into rooms and cared for and taught with their age group.
"We have the infant room, the one year old room, the two year old room and then the three and four year olds are considered pre-school," she said.
Pahl says attendance is up at the center and the infant and one and two year old rooms are full.
One recent change at KLC is the curriculum.
Prior to Pahl's arrival, KLC used the Montessori method for teaching. After Pahl stepped the school changed to a traditional curriculum. Pahl believes the traditional curriculum is beneficial to the students and said the response has been positive.
"It's a big change, a good change," Pahl said. "Traditional has a little more structure to it. Based on popular vote by the board and everyone else and as a parent, I personally think traditional is traditional for a reason."
According to Pahl, the curriculum provides a direct learning style and helps prepare students for the rigors of school.
"I think Montessori is great for some kids, but I think for the average child the traditional works," she said.
Pahl said the center will use the traditional curriculum along with using the Montessori methods, if a child learns better that way.
"If you're trying to teach a kid something and they're not getting it you keep finding ways to help them get it," she said.
In addition to new curriculum, KLC also has several new teachers on staff and is working toward an updated webpage and social media pages.
"Keeping (parents) more in the loop and there's more inter-action on Facebook," Pahl said. "Our key is just getting our numbers up and so far so good this year."
More like this story