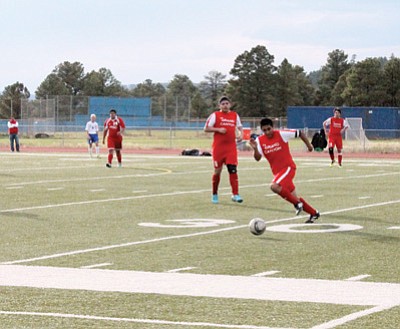 Originally Published: October 20, 2015 9:41 a.m.
GRAND CANYON, Ariz. - The Phantoms walked away with an 8-1 loss against Northland Prep Oct. 15.
With the Phantom's scoring their first goal in the second half, the team faced another loss this season. According to Phantom coach Jesse Magana, it has been an all around tough season for the team.
"We played throughout and saw some good things," Magana said. "We tried some different sets and it didn't work out perfectly but they did good."
Players have tried different positions and plays rather than keeping the same positions throughout the season.
"(We've been) trying different things," Magana said. "We move them around. Some have been in the same position, like Travis Moreno, he's been our sweeper all year and he's improved - he's really aware of it now."
One challenge the team has seen this season is not having subs to rotate in and out of the game. Most of the year the team has played with an 11-man team - since the girls created its first all girls team this year, which Magana believes could have something to do with the team's record.
"We play with no subs, there's just 11 of them out there, that's how it's been," he said. "Some of the girls are really good and they would have starting positions on our team...(they're going through the same thing (no subs), they play with nine sometimes."
The Phantoms are 1-6 in the season, with their only win against Shonto Prep, 14-2, Oct. 8.
During the Shonto Prep game, Magana said the Phantoms played more competitively.
"I think it had something to do with their mentality," he said. "The Shonto Prep team was co-ed and they thought, maybe, 'oh, they have girls on their team, let's play hard and beat them.' I think that might have been it."
One of the toughest competitors this season has been Northland Prep.
"This team that we just played is really good," Magana said. "The (games) are all the same to me really, (because) it's like, 'are we going to play like we can, stay composed and stay in it or are we going to score a couple goals and kind of give up?'"
Magana has been proud of the dedication and commitment by Aldair Padilla, Byron Amidon and Moreno this season.
"We're all strong all around," Magana said. "Everyone is really good. Israel is our captain, him as well as Byron. As long as they keep enjoying (the game) and don't get down on each other or yelling at each other, that's what I like."
The Phantoms go up against Ash Fork Oct. 20 before playing their final game against Chino Valley Oct. 22.
More like this story