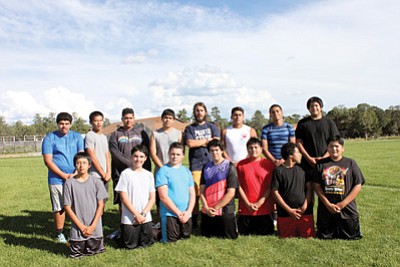 Originally Published: September 1, 2015 10:27 a.m.
GRAND CANYON, Ariz. - "I really just want them to buy into the idea that they can achieve what they are willing to set out for, they can achieve whatever they want. They have to work for it, they have to really want it and they have to be dedicated," said Jesse Magana, head coach for the Phantoms soccer team.
Magana's team consists of 15 students, which he said are already strong leaders and players.
"We've got a well rounded team," he said. "I'd like to see them do the best they can."
The team has two seniors leading the way for the team, which Magana believes will pay off during the upcoming season.
"Some of the seniors are pretty pumped up," he said. "They've got a good team this year, and they're excited for it."
Magana also said the freshman class has contributed many good players this year. This year's strategy, according to Magana is to take each game as it comes...building off what they learn.
"We have 10 games this season and six of them are at home," Magana said. "That's good for the boys and good for the school. Right now, we are taking it a game at a time, a match at a time - we are working hard."
The team is training for the season by practicing conditioning exercises every day after school. The next step will be to learn and practice sets, positioning, movements and getting to know the flow of the field.
"At times I kind of feel like, 'Am I asking too much of them?' and they prove me wrong, they're working very hard." Magana said. "I expect for them to be working really hard and to really want it."
Magana is familiar with sports, having grown up playing all sports, however this is his first year coaching at the school. He also teaches Fit Kids.
Josh Sigmon, who played college soccer, will serves as assistant coach for the team.
The Phantoms will go up against Phoenix Country Day for their first game, which takes place at 4 p.m. Sept. 19 at Grand Canyon School.