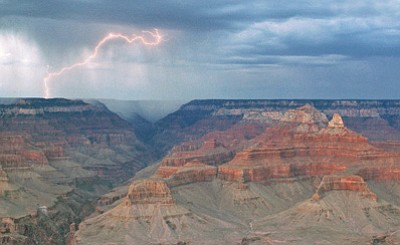 Originally Published: September 15, 2015 9:53 a.m.
GRAND CANYON, Ariz. - At 4:05 p.m. Sept. 13 the Grand Canyon Regional Communications Center received a call reporting an unidentified male had possibly been struck by lightning on the South Kaibab Trail.
Paramedics were able to locate the unresponsive individual near Ooo-Aah Point approximately one mile down the South Kaibab Trail.
Medics were unable to resuscitate the man who was identified as Jonathan Crowden, 21 of Alfredton, Australia.
The National Park Service in coordination with the Coconino County Medical Examiner is investigating the incident.
Park rangers advise that lightning can strike 10 miles across the canyon. Park visitors and residents should stay away from exposed points during storms and lightening activity.
The safest place to be during a thunderstorm is inside a building or a vehicle with the windows closed. Avoid touching metal railings when lightning activity is nearby.
If in an open area during a storm it is recommend to assume the lightning position which will reduce the chances of getting a direct strike. Individuals should squat or ball up to be as low as possible, without lying flat on the ground.
Wrap your arms around your legs, keep your feet together, and if possible use a sleeping pad or other insulated object to sit on. Avoid sitting on backpacks with metal frames.
Serious injuries and fatalities have occurred at Grand Canyon National Park in the past as a result of lightning strikes.
Visitors to the park are reminded that if the sound of thunder follows a lightning flash within 30 seconds or less, they should seek shelter in a building or vehicle, or proceed to the nearest bus stop to get on a park shuttle.
The park reminds the public, "If you see it, flee it; and if you hear it, clear it."
More like this story