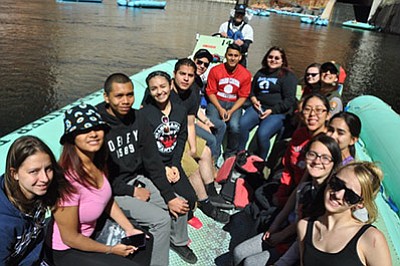 Originally Published: April 12, 2016 11:31 a.m.
GRAND CANYON, Ariz. - While the rest of Grand Canyon School (GCS) was busy taking standardized tests March 28-30, the senior class was wrapping up a four year project and floating the Colorado River.
As part of their senior trip and as a thank you from the National Park Service (NPS), who adopted the 2016 GCS class four years ago as part of its Centennial Class Act project, seniors were treated to two days of human history and Ethnobotany field trips followed by a smooth water float trip on the Colorado River from Glen Canyon Dam in Page to Lees Ferry.
Environmental Education Specialist Ranger Amala Posey has worked with the seniors for the last four years and said the seniors were appreciative to the park and soaked in every experience.
"The seniors are our class act centennial kids," she said. "Some of these kids were blown away. I mean it's taken them four years to get there and it's one thing when you're in the classroom but when you finally get to step out, take them into the field and show them how it relates on this bigger scale... there were so many times when I saw these kid's mouths open wide."
For the last four years NPS staff have visited with the 2016 class in their social studies and sciences classes.
"This was our way to kind of bring it all together," Posey said. "We had Jason Nez, who was a past archeologist here at Grand Canyon come with us one of the days, which was a dream come true, we met with Desert View staff and toured the Watchtower and Tusayan Ruin and Museum and went to Wupatki National Monument and met with rangers out there."
Bently Monk, GCS teacher who helped coordinate the event, said seniors enjoyed the hands on learning experience.
"The trip was fantastic, the kids were great," Monk said. "He is half Navajo and half Zuni, so he's got the cultural aspect of stuff from his culture and he's got the archeological science background that he mixes in with that. He was able to make a connection with our students immediately."
As part of its partnership with the seniors and for its centennial initiative, the seniors created a motto and sticker for NPS that will be debuted and made available during the park's Earth Day celebration April 22.
"What they came up with is, 'I am free, I am alive, please let me be,' and that is in terms of the artifacts and they'll teach the younger kids that they're part of the history, and they're alive, too and to not break it and to leave it where it is," Posey said.
Posters and stickers will be available during an open-house style celebration of Earth Day from 10 a.m. to 2 p.m. April 22 at the Grand Canyon Visitor Center Plaza.
"I can say afterward we definitely made life changing moments for these kids," Monk said. "They were talking about it for days afterward and some of them are now encouraged to seek jobs within the park service."
More like this story